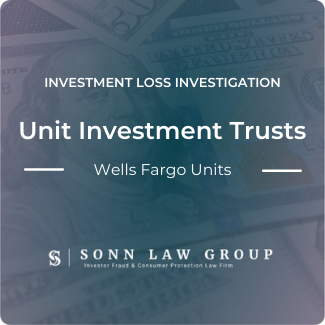 INVESTORS: Wells Fargo has been fined $3M over recommendations involving Unit Investment Trusts (UIT). Wells allegedly recommended unsuitable early investment trust rollovers causing customers to pay more than $2.4 in excess sales fees. If you are a Wells Fargo customer who has been advised to sell your UIT investment before it's maturity date, you may have a claim for financial damages.
"If your financial advisor recommends the sale of your Unit Investment Trust before its maturity date and then uses the sales proceeds to buy a new UIT, then you are paying unnecessary sales charges. If you are advised to repeatedly sell out your UIT early and roll over to yet another UIT, you are likely being abused and have a case against your advisory firm," said Jeff Sonn, a nationally known securities attorney.
Read the full text of FINRA's order.
Unit Investment Trust Investments with Wells Fargo?
Submit the short form below to schedule a free consultation.