This page was last updated on November 14, 2019.
The Sonn Law Group is investigating allegations that GPB Capital is running a Ponzi-like scheme. If you or a family member experienced investment losses investing with GPB Capital, we want to discuss your case.
Did your advisor recommend investing in GPB Capital?
Recover your losses. Call us now at 305-912-3000 or complete the form below.
GPB Holdings is the Target of Ponzi Scheme Investigations by SEC, FBI, FINRA, and MA Securities Division

The investment fraud attorneys at the Sonn Law Group are investigating filing a lawsuit on behalf of investors in GPB Capital following reports that the company was raided by the FBI in February 2019.
The SEC and FINRA are also investigating GPB Holding's financials. Those investigations are examining the adequacy of the companies' disclosures.
Investors in the following GPB funds may be affected by the companies' decision to suspend redemptions of its funds:

GPB Automotive Portfolio, LP
GPB Holdings, LP
GPB Holdings II, LP
GPB Holdings III, LP
GPB Holdings Qualified, LP
GPB Cold Storage, LP
GPB NYC Development, LP
GPB Eurobond Finance, PLC
GPB Waste Management, LP
GPB Scientific, LLC

Here is a list of several of the brokerage firms that sold GPB placements. If you work with a registered investment advisor at any of these firms, you should speak with an attorney right away:

Ladenburg Thalman
Hightower Securities
Kalos Capital, Inc.
Concorde Investment Services (DBA Peregrine Private Capital Corporation)

Recent News Related to GPB Capital
GPB Capital Holdings is a Seller of Private Placements
GPB Capital Holdings (CRD#: 169825/ SEC#: 801-79413) is an alternative asset management company based in New York, New York.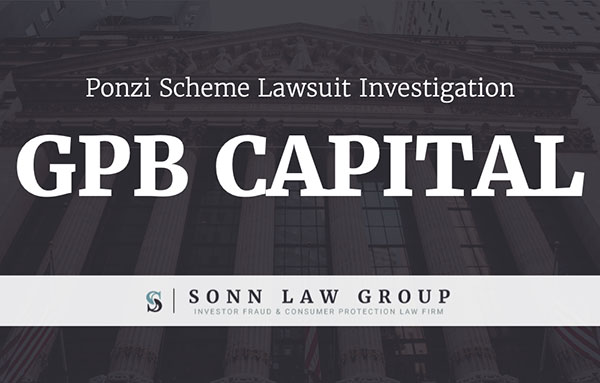 As described on their website, GPB Capital Holdings is focused on 'acquiring income-producing private companies'.
In effect, this means that GPB Capital Holdings is a seller of private placements.
Often these sales are made to investors through brokerage firms. Under Regulation D, private placements are not subject to many standard securities disclosure requirements.
As a result, these types of investments tend to be risky and they typically have high fees. They are not suitable for most investors.
Former GPB Operating Partner Alleges that the Firm is a Ponzi Scheme
Former GPB Holdings (GPB) operating partner Patrick Dibre allegedly reneged on the sale of $40M of car dealerships to GPB according to a Complaint filed in New York Supreme Court.
GPB, between December 2013 and April 2015, allegedly advanced Dibre $42M for auto dealerships he purportedly never delivered and also alleges that Dibre failed to provide the requisite starting notices to begin the sales process of five dealerships he owned in the New York area, the Complaint reports.
In a counterclaim filed by Dibre in New York Supreme Court, he claims that "losses occasioned by GPB were in fact caused by a very complicated and manipulative Ponzi scheme." His counterclaim further alleges that "GPB paid its investors significant returns based upon falsified financial information, and that, in order to generate high dividends, GPB was forced to "implement a different investment methodology than the one disclosed to the investors."
GPB, the majority owner of Prime Automotive Group, began investing in dealerships in 2013.
The minimum investment in GPB Automotive Portfolio was $100K, and brokers can sell private placements, also known as Reg D deals, to rich, accredited investors and institutions.
Private placement investments are intricate financial instruments and are often quite risky. Private placements must meet strict registration and reporting requirements as set forth by the SEC, and are usually sold under a high fee and commission structure.
The FBI Searches GBP Offices in February 2019
The FBI and an unnamed New York agency searched GPB's offices on Feb. 28th. Both the SEC and FINRA have opened investigations into GPB, and Massachusetts securities regulators announced their own investigation into GPB last September.
The stakes are high. The potential unraveling of GPB could leave Prime, the 11th largest dealership group in the country, without its majority investor. The investigations and a halt in distribution payments have GPB investors worried about their money.
"Prime Automotive sells and services cars. We do not participate in the selling, or exchanges of investments and have nothing to do with GPB Capital's operations," Prime CEO David Rosenberg told employees in an email Feb. 28th, adding, "We are, of course, closely monitoring developments at GPB and are prepared to take all necessary and appropriate steps to protect Prime and support our long-term growth strategy."
Depending on the outcome of the investigations, GPB could be forced to sell some of its assets, auto industry sources said. If wrongdoing is found, a receiver could be appointed to handle sales of assets, including dealerships.
The allegations raised against GPB Holdings are extremely serious. If you or someone you know invested with Patrick Dibre or GPB Holdings, please contact us immediately for a free and confidential consultation.
Massachusetts Securities Division: Major Investigation of Broker-Dealers Offering GPB Capital Holdings
On September 12th, 2018, William Galvin, the top securities regulator in Massachusetts, announced the state's Securities Division has launched a comprehensive investigation into more than 60 brokerage firms that were selling GPB Capital Holdings to investors.
According to reporting from ThinkAdvisor, this investigation was initiated soon after the news broke that GPB Capital Holdings is temporarily refraining from bringing any new funds to the market and is suspending redemptions. The asset management company stated that it is seeking to clear up some accounting and financial reporting issues.
While this case is still under investigation and there have been no findings of misconduct, William Galvin told reporters "recent activity within GPB raises red flags of potential problems". A spokesperson from GPB Capital Holdings declined to offer any specific comment on the investigation.
Speak to a Securities Lawyer Today
If brokerage firms sold unsuitable, risky private placements to investors, they could potentially be held liable for any resulting financial losses. At Sonn Law Group, we have extensive experience representing investors in securities lawsuits and FINRA arbitration cases. If you sustained large investment losses, you may be eligible to recover monetary damages. For a free consultation, please contact our law office today.
---
Disclaimer: This article contains opinions and NOT statements of fact in any way whatsoever. The information here is general information that should not be taken as legal advice. NO attorney-client relationship is established between you and our attorneys by reading this article. This article is attorney advertising and should not be used as a substitute for legal advice from a qualified securities lawyer.