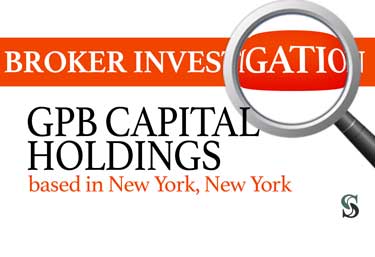 GPB Capital Holdings (CRD#: 169825/ SEC#: 801-79413) is an alternative asset management company based in New York, New York. As described on their website, GPB Capital Holdings is focused on 'acquiring income-producing private companies'.
In effect, this means that GPB Capital Holdings is a seller of private placements. Often these sales are made to investors through brokerage firms. Under Regulation D, private placements are not subject to many standard securities disclosure requirements. As a result, these types of investments tend to be risky and they typically have high fees. They are not suitable for most investors.
Massachusetts Securities Division: Major Investigation of Broker-Dealers Offering GPB Capital Holdings
On September 12th, 2018, William Galvin, the top securities regulator in Massachusetts, announced the state's Securities Division has launched a comprehensive investigation into more than 60 brokerage firms that were selling GPB Capital Holdings to investors.
According to reporting from ThinkAdvisor, this investigation was initiated soon after the news broke that GPB Capital Holdings is temporarily refraining from bringing any new funds to the market and is suspending redemptions. The asset management company stated that it is seeking to clear up some accounting and financial reporting issues.
While this case is still under investigation and there have been no findings of misconduct, William Galvin told reporters "recent activity within GPB raises red flags of potential problems". A spokesperson from GPB Capital Holdings declined to offer any specific comment on the investigation.
Speak to a Securities Lawyer Today
If brokerage firms sold unsuitable, risky private placements to investors, they could potentially be held liable for any resulting financial losses. At Sonn Law Group, we have extensive experience representing investors in securities lawsuits and FINRA arbitration cases. If you sustained large investment losses, you may be eligible to recover monetary damages. For a free consultation, please contact our law office today.
Disclaimer: This article contains opinions and NOT statements of fact in any way whatsoever. The information here is general information that should not be taken as legal advice. NO attorney-client relationship is established between you and our attorneys by reading this article. This article is attorney advertising and should not be used as a substitute for legal advice from a qualified securities lawyer.