Today's Grown Consultant, also known as The Income Store, has allegedly raised over $75 million from investors since 2017.
The Sonn Law Group is investigating allegations that Kenneth Courtright operated a Ponzi scheme. If you or a family member has suffered losses investing, we want to discuss your case. Please contact us today for a free review of your case.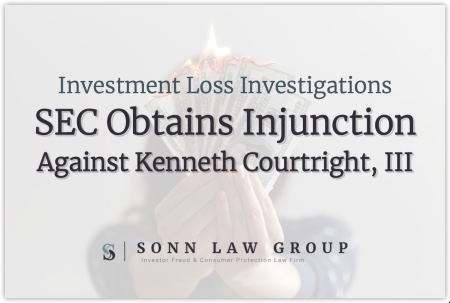 Kenneth Courtright was indicted on a federal fraud charge for operating an alleged Ponzi scheme that raised approximately $75 million from investors. A criminal complaint was filed on February 4, 2020 alleging that Courtright had committed wire fraud through his Monooka-based company, Today's Growth Consultant Inc. ("TGC"), which also does business as "The Income Store." 
In January 2019, the SEC published a litigation release announcing they had filed an emergency enforcement action and obtained a temporary restraining order and asset freeze against Courtright and his company.  The temporary restraining order was granted on December 30, 2019, and the court ordered an asset freeze and appointed a receiver for TGC. On March 3, 2020, the federal court entered preliminary injunction orders against Courtright and TGC, which currently operates under a court-appointed receiver. 
The SEC's complaint alleged that from 2017 until late 2019, TGC and Courtright promised investors an endless minimum guaranteed rate of return on revenues generated by websites. TGC would charge investors an "upfront fee", and then claimed that it would either build or buy a website for the investor and develop, market and maintain the website for that investor.
TGC falsely promised that it would use investors' funds exclusively for expenses related to the investor's website. However, the sales were conducted through unregistered securities offerings, and TGC used new investors' funds to pay investor returns, in a Ponzi-like manner. The investors' funds were also used to pay Courtright's personal expenses, including mortgage payments and payments for private school tuition. 
The Court's order enjoins Courtright and TGC from violations of the antifraud and registration provisions of the federal securities laws. It prohibits Courtright from offering or otherwise engaging in securities transactions. It also extends the asset freeze and other emergency measures originally ordered by the Court thereby preserving what assets existed when the case was filed. The receiver will continue to marshall and preserve TGC's assets.
Contact Us Today
The Sonn Law Group is currently investigating allegations that Kenneth Courtright operated a Ponzi-like scheme. We represent investors in claims against negligent brokers and brokerage firms. If you or your loved one experienced investment losses, we are here to help. For a free consultation, please call us now at 866-827-3202 or complete our contact form.