Jason Dodd Bullard and Angela Romero-Bullard are accused of perpetrating a Ponzi scheme by the SEC.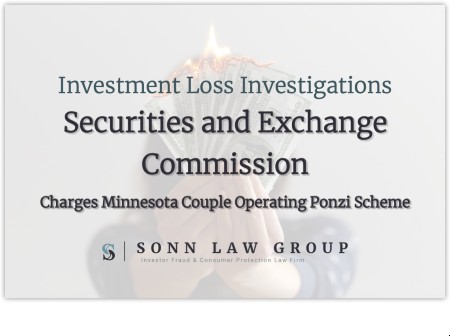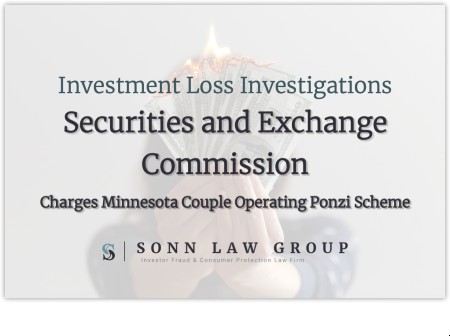 Jason Dodd Bullard and Angela Romero-Bullard, a married couple from Shakopee Minnesota, were charged by the SEC with perpetrating an $18 million Ponzi scheme. The SEC obtained a temporary restraining order and an asset freeze to stop the scheme. The couple reportedly used Bullard Enterprises, LLC, an entity they control, to help operate the scheme.
The SEC alleges that the couple raised approximately $17.6 million between 2007 and 2021 from as many as 200 investors. The investor funds were purportedly being invested into Bullard Enterprises' Flagship and Platinum Funds. The Bullards told investors that the investments would be used to trade  foreign currencies, and sent investors account statements showing that their accounts were increasing in value. In reality, according to the complaint, Bullard Enterprises stopped trading in foreign currencies in 2015, and the defendants simply used new investor money to pay purported "returns" to existing investors. Also according to the complaint, the couple misappropriated investors' money to support other businesses they owned, including a horse racing stable, limousine service, and health and fitness studio.
Bullard, Romero-Bullard, and Bullard Enterprises are charged with violating the antifraud provisions of Section 17(a) of the Securities Act of 1933 and Section 10(b) of the Securities Exchange Act of 1934 and Rule 10b-5 thereunder. In addition to temporary relief, the complaint seeks, among other things, preliminary and permanent injunctions, disgorgement, prejudgment interest, civil penalties, and an asset freeze.
The Sonn Law Group is currently investigating allegations surrounding Jason Dodd Bullard and Angela Romero-Bullard. We represent investors in claims against negligent brokers and brokerage firms. If you or your loved one experienced investment losses, we are here to help. For a free consultation, please call us now at 866-827-3202 or complete our contact form.