Lost Money in XIV ETNs by Credit Suisse?
The Sonn Law Group is interested in speaking with investors who have suffered losses in VelocityShares Daily Inverse VIX Short-Term exchange-traded notes (XIV). We may be able to help you recover losses. Contact us online or call 305-912-3000 to speak with a qualified securities fraud attorney about your case.
February 5, 2018: Volatility Exchange Traded Securities Nose-Dive by 80%
On February 5th, 2018 the VelocityShares Daily Inverse VIX Short-Term ETN lost 80% of it's value, causing investor losses of millions of dollars.
[Read the full story on CNBC.com]
By design, this complex and risky security – which is offered by Credit Suisse – is meant to give investors the opposite return of the Cboe Volatility index (VIX), which tracks the market's turbulence. According to securities fraud attorney Jeffrey Sonn:
"These are very complex and risky products that are not suitable for individual retail investors in my opinion."
Credit Suisse CEO: XIV Was for Sophisticated Daily Trading Only
In the aftermath of the crash of Credit Suisse's XIV ETN financial product in early February 2018, CEO Tidjane Thiam spoke to CNBC's Joumanna Bercetche and admitted that the product was only suitable for professionals and hedge funds.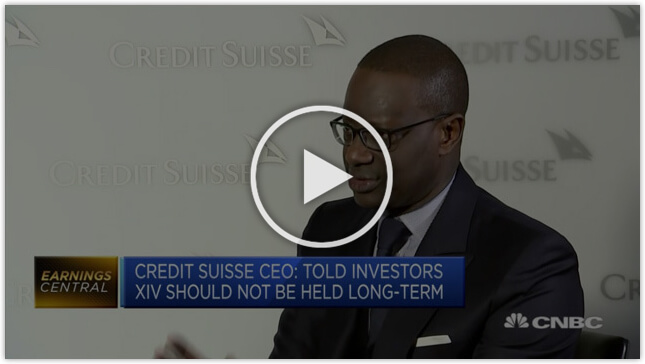 This is further evidence that this particular investment product was unsuitable for most investors, and that investors who suffered significant losses to their accounts may have valid claims against their individual brokers or brokerage firms who invested in the XIV product.
What are inverse volatility ETFs?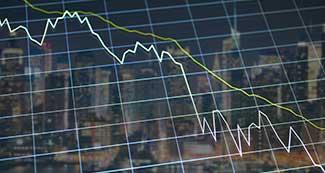 Inverse VIX ETFs like the VelocityShares Daily Inverse VIX Short-Term ETN (XIV) and the ProShares Short VIX Short-Term Futures ETF (SVXY) provide short-term speculative vehicles for betting against volatility.
In other words, inverse volatility securities allow investors to bet that the market will remain "calm", for lack of a better word.
According to ETF.com, the drop in these funds witnessed on February 5, 2018 is unprecendented:
What took place in the VIX and VIX exchange-traded products this week was truly unprecedented. Before Monday, the biggest one-day move in the VIX was 64.2%, which occurred in February 2007. Even during the financial crisis of a decade ago, the VIX never had a one-day increase anywhere close to that seen on Monday…
---
Lost Money In VelocityShares Daily Inverse VIX Short-Term ETN? Talk to an Attorney Today
If your financial advisor or broker has recommended investments in risky VIX exchange traded notes, you should speak with a qualified securities law attorney about your options. To speak with an attorney at the Sonn Law Group, give us a call at 305.912.3000 or contact us online. We offer 100% free legal consultations.