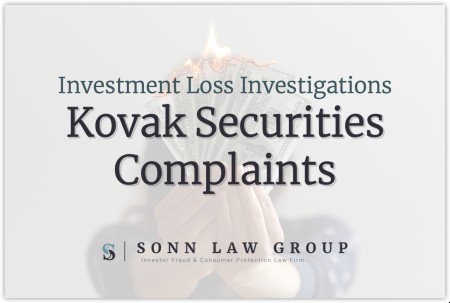 The investment fraud attorneys at Sonn Law Group are actively investigating complaints against Kovack Securities (CRD#: 44848), a brokerage firm that is based in Fort Lauderdale, Florida.
Kovack Securities operates in all 50 U.S. states and several American territories.
If you lost a significant amount of money investing with this brokerage firm, you may be entitled to recover financial compensation for your losses.
Kovack Securities Complaint Topics Covered Here
Kovack Securities: Notable Customer Disputes and Regulatory Actions
Named in the 'Tainted Broker' Study
In June of 2017, Reuters and Columbia University Law School put together a study on "tainted" brokerage firms.
The goal of the study was to identify the brokerage firms that employed a disproportionately high number of individual securities representatives who have had customer complaints against them. Fifty different firms were identified as raising 'red flags' with investigators, including Kovack Securities.
Excessive Sales Charges
In May of 2016, FINRA discovered that Kovack Securities had failed to apply sales charge discounts for certain eligible customers. Registered brokerage firms have a duty to ensure that they have an effective system in place to identify and apply all fee waivers. Kovack Securities was fined $125,000 and ordered to pay $119,318.27 in restitution to the affected customers.
Broker Negligence: Failure to Supervise
In July of 2012, a Kovack Securities customer brought a complaint against the firm. This case went before a Miami, Florida-based FINRA arbitration panel.
According to the claimant, Kovack Securities was negligent in the supervision of one of the firm's representatives. According to the investor, that representative had improperly asked for and received a loan from the customer. The arbitration panel agreed that Kovack Securities had acted negligently, awarding $50,000 in compensation to the investor.
Broker Negligence: Breach of Fiduciary Duty
In August of 2009, a FINRA arbitration panel based in Tampa Bay, Florida heard a complaint against Kovack Securities. In this case, a group of Kovack Securities customers alleged that they had incurred serious financial losses due to the firm's negligence. The investors asserted several different causes of action, including:
Failure to supervise;
Breach of contract;
Breach of fiduciary duty;
Broker negligence;
Unjust enrichment; and
Fraudulent inducement.
The underlying cause of action in this case related to certain unregistered securities. Unregistered securities can only be sold to certain qualified investors, in a relatively narrow set of circumstances. After hearing the claim, the panel sided with the investors, ordering Kovack Securities to pay them more than $530,000 in financial compensation.
---
At Sonn Law Group, we are committed to protecting the rights of investors throughout the United States. If you lost money investing because of broker negligence or misconduct, let us help you. We offer initial legal consultations that are fully confidential and free of charge. Further, our legal team only collect legal fees if we win or successfully settle your investment fraud claim.