GPB Capital is the Target of Multiple Investigations Related to Allegations that it May be a Ponzi Scheme
Did your broker / advisor reccomend investing in GPB Capital? Did you suffer losses in your investment accounts as a result? If so, click here or call 844-689-5754 to contact the Sonn Law Group immediately to discuss your situation. Our Firm can help you file a lawsuit to attempt to recover your GPB Capital Holdings losses. To browse all news and updates related to GPB Capital click here.

---

GBP Capital Lawsuit — Recent News, Updates & Broker Investigations:
Did your advisor recommend investing in GPB Capital?
Recover your losses. Call us now at 305-912-3000 or complete the form below.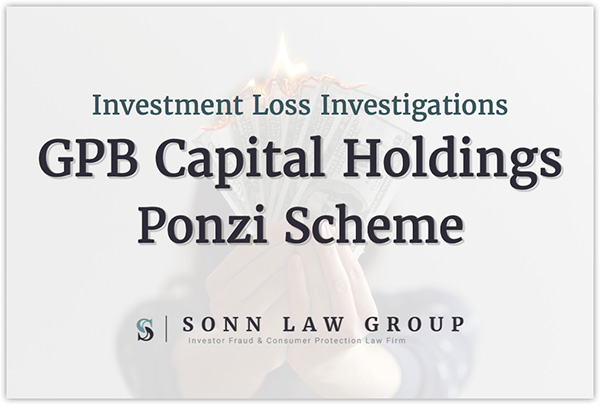 GPB Capital (CRD#: 169825/ SEC#: 801–79413) is a private investment entity. The company's core model centers around "acquiring income-producing assets" — most notably, auto dealerships and trash hauling companies.
In the fall of 2018, GPB announced that it was halting sales to new investors and suspending redemptions to address accounting issues. The following funds were affected:
GPB Automotive Portfolio, LP
GPB Holdings, LP
GPB Holdings II, LP
GPB Holdings III, LP
GPB Holdings Qualified, LP
GPB Cold Storage, LP
GPB NYC Development, LP
GPB Eurobond Finance, PLC
GPB Waste Management, LP
GPB Scientific, LLC
This company is now being investigated by regulators and law enforcement as a potential Ponzi scheme. If you are an investor who lost money in GPB Capital, it is essential that you consult with an experienced Ponzi scheme lawyer right away. You may be eligible to recover financial compensation for your damages.
Here are the Top Three Things You Need to Know About the GPB Capital Lawsuit Investigation
GPB CAPITAL LAWSUIT NEWS
1. The SEC, FINRA, and State Regulators are Investigating GPB Capital
GPB Capital is facing multiple investigations from state and national securities regulators. In addition, ProPublica reports that the Federal Bureau of Investigation (FBI), raided the investment company's New York City offices in February of 2019. The Massachusetts Securities Division is also investigating more than 60 registered brokerage firms that sold this illiquid, high-risk private placement investment to customers.
GPB CAPITAL LAWSUIT NEWS
2. GPB Capital is Accused of Being a Ponzi Scheme
In a legal complaint filed in the New York Supreme Court, a former business partner of GPB Capital alleges that the investment entity is little more than a "complicated and manipulative" Ponzi scheme.
Among other things, this former associate contends that GPB was only able to pay investors significant returns based on "falsified financial information" and that the investment company had to "implement a different investment methodology" to stay afloat. This is extremely alarming.
If proven true, investors are facing the possibility of serious losses. Since 2013, GPB Capital has reportedly raised nearly $2 billion from investors.
GPB CAPITAL LAWSUIT NEWS
3. Financial Advisors and Brokerage Firms May Be Liable for Losses in GPB Capital
Many financial advisors and brokerage firms encouraged customers to invest in GBP Capital. As was mentioned, Massachusetts regulators are investigating dozens of brokerage firms that offered this private placement investment.
Among many others, broker-dealers that recommended and sold risky GPB Capital fund to investors include, but are not limited to:
Ladenburg Thalman
Hightower Securities
Kalos Capital, Inc.
Concorde Investment Services (DBA Peregrine Private Capital Corporation)
Contact a Securities Fraud Attorney Today
While selling GPB Capital funds allowed financial advisors and broker-dealers to bring in high commissions and fees, doing so put investors at considerable risk.
Investors who relied on their financial advisor or brokerage firm to perform adequate due diligence may be eligible to recover compensation for losses sustained in GPB Capital.
---
Jeffrey R. Sonn is a securities fraud attorney. He has more than 30 years of experience fighting for the rights of investors nationwide. If you or your family member sustained significant losses in GPB Capital, you need to speak to a lawyer immediately. For a free initial consultation, please do not hesitate to contact the Sonn Law Group today.