Todd Skelton, former Northeast market president of Autonation, Inc., was named CEO on Tuesday.
The Sonn Law Group is investigating allegations that brokers recommended investments in GPB Capital Holdings. If you or a family member has suffered losses investing, we want to discuss your case. Please contact us today for a free review of your case.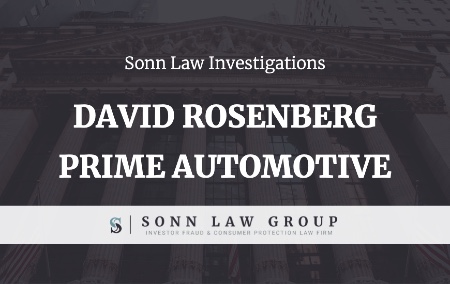 Prime Automotive Group was purchased by GPB Capital in May 2017. The company owns and operates 56 dealerships organized into five regional groups across multiple states. Nine dealerships are located in Maine. The company generated $3.3 billion in revenue in 2019.
Rosenberg was formerly the CEO of Prime Automotive Group. He later filed a lawsuit against GPB Capital Holdings alleging that he was fired based on his attempts to expose financial misconduct on the part of GPB Capital. GPB Capital denied all allegations. 
Rosenberg originally sued GPB Capital in July alleging financial misconduct. He amended his complaint in November to add that GPB Capital was contractually obligated to retain him as the dealerships' sole decision-maker and could not legally remove him without authorization from auto manufacturers. 
According to the amended complaint, Toyota, Volkswagen, and other manufacturers threatened to revoke their franchise agreements with Prime dealerships as a result of breaches of contract stemming from Rosenberg's removal. 
In a statement, Prime Automotive stated, "We have ongoing discussions with both Toyota and Volkswagen. Manufacturers have a lengthy process to get a new CEO approved and we began that process as soon as Todd joined us last week." 
GPB Capital Holdings is a New York-based investment firm that offers exempt, private-placement securities. These investments inherently have a high degree of risk due to their nature as unregistered securities offerings (and without regulatory oversight).
The investment firm raised $1.8 billion from investors through private placements that invested in automotive dealerships, the waste management industry, and middle-market lending. These investments were high risk and high commission (nearly 8%) private placements.
GPB Capital has been embroiled in legal disputes in the recent past. In November 2019, GPB informed investors that they would not be supplying the audited financial reports by their deadline, even though investors have been awaiting the audits since April. 
In June 2019, GPB Capital Holdings reported losses in the value of two of its investment funds: GPB Holdings II and GPB Automotive Portfolio. GPB Holdings II saw a decline in value of 25.4% and GPB Automotive Portfolio has decreased by 39%. GPB Holdings II and GPB Automotive Portfolio make up the majority of GPB Capital Holdings' portfolio, raising $1.27 billion from investors.
GPB Capital Holdings manages the following nine private placements:
GPB Automotive Portfolio, LP

GPB Cold Storage LP

GPB Holdings, LP

GPB Holdings II, LP

GPB Holdings III, LP

GPB Holdings Qualified, LP

GPB NYC Development, LP

GPB Waste Management Fund, LP
GPB Capital Holdings' other funds also reported declines in the estimated value of 25% to 73%.
Contact Us Today
The Sonn Law Group is currently investigating allegations that brokers recommended investments in GPB Capital Holdings. We represent investors in claims against negligent brokers and brokerage firms. If you or your loved one experienced investment losses, we are here to help. For a free consultation, please call us now at 866-827-3202 or complete our contact form.
Recent Investigations Involving GPB Capital Holdings