Real estate investment trust suspends distribution reinvestment and stock purchase plan due to the impact of Covid-19
Sonn Law Group is representing investors who have suffered losses investing in Benefit Street Partners REIT. REITs have seen a significant decline during coronavirus pandemic. If you or a family member has suffered losses investing, we want to discuss your case. Please contact us today for a free review of your case.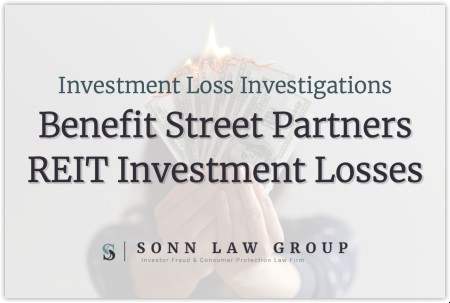 Benefit Street Partners REIT is a non-traded real estate investment trust that originates, acquires and manages a diversified portfolio of commercial real estate debt secured by properties located in the United States. Benefit Street is managed by BSP, a credit-focused alternative asset manager with over $10 billion in assets.
Benefit Street was created in November 2012. The REIT raised $786 million in investor equity prior to closing its offering in January 2016. As of September 2016, their portfolio consisted of 73 loans and 7 CMBS investments. 
In May 2020, the REIT announced that it was suspending its distribution reinvestment and stock purchase plan (DRIP) immediately. The original price per share was $25.00. Current sponsor-stated value remains reported on investor statements as $18.57 per share. This suggests that investors in Benefit Street may have experienced a 25% decline in their investment value. 
Despite the listed values, the most recent trading range reported by a secondary market source was between $13.75 and $13.94 share.
Many other non-traded REITs have recently enacted similar suspensions as a result of the impact of Covid-19. Non-traded REITs can be illiquid because they are not traded on the public securities exchange. Additionally, commissions generated on Non-Traded REITs are higher than industry averages. These investments are only suitable for investors with a long-term investment horizon who are willing to accept high levels of risk. 
Many investors in REITs are unaware of the losses they are suffering until they try to sell their investments. Because non-traded REITs are not bought or sold on the public securities exchange, investors are often forced to use secondary markets and often get paid only a fraction of what they originally paid. Investors may be able to recover losses in these situations by filing an arbitration claim against the broker-dealer that recommended the investment. 
Contact Sonn Law to Discuss Recovery Options
If you suffered losses investing in Benefit Street Partners REIT, we are here to help. For a free consultation, please call us now at 866-827-3202 or complete our contact form.