Answers to Common Questions from Victims of Investment Loss
Most investors understand and accept that investing money is inherently risky.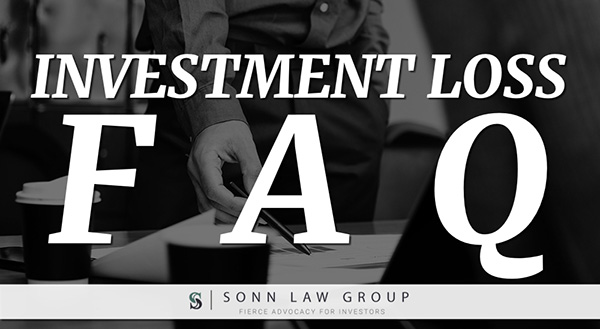 What most investors do not realize is how common it is for investment losses to occur as the direct result of negligence, misconduct, or outright fraud on the part of financial advisors and stockbrokers.
In fact, in 2017 alone 492 individual advisors and brokers were barred from the financial services by FINRA, and another 733 were suspended.
In addition to that, 20 investment firms were expelled from the financial services industry and another 29 were suspended.
In cases where significant investment losses occur due to the negligent or unlawful actions of a broker, advisor, or investment firm, investors have the right to sue in order to recover their investment losses.
Here the investment loss attorneys of Sonn Law Group have answered the most frequently asked questions from victims of investment loss.
Significant investment losses? Submit the short form below to schedule a free consultation today.
Investment Loss FAQ

Table of Contents
WATCH: Investment loss attorney Jeff Sonn answers two critical questions…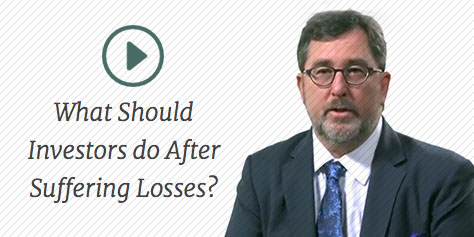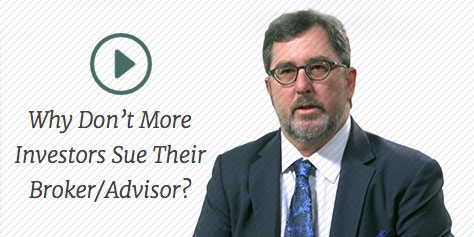 How did I miss the warning signs of investment loss?
Unfortunately, broker misconduct and fraud happen every day in the financial world. Even well-informed people become victims. The following are signs your broker may not be totally on the up and up.
Your broker sends financial account statements that don't match your records.
You find unauthorized or unexpected trades on your statement.
Fees on your statement are different from what was initially disclosed.
Your broker is excessively trading in your account.
Your broker has over-concentrated your portfolio in one particular investment.
Your broker seems to earn large commissions, even when you lost money.
Investors can protect themselves by keeping detailed records, learning how to read your statements and keeping close tabs on what your broker is doing. It is also not a good idea to authorize your broker for unlimited trading in your account.
Learn Your Rights
If you've suffered significant losses in your investment accounts, talk to a lawyer who will explain your rights and options, free of charge.
Financial professionals and firms are closely regulated, why check their credentials?
It is true, brokers are closely regulated. Most states have their own securities regulators. When brokers manage assets of $100 million or more, national organizations like the SEC and the Financial Industry Regulatory Authority or FINRA get involved. Brokers and firms are also regulated by many federal and state laws.
But fraudsters are sneaky. Some act outside the scope of normal business to get around regulations. They fail to report outside business activities and offer unsecured investments to their customers. Some even claim they are registered even when they are not.
Investors can use the following resources to check the credentials of a broker or firm before trusting them with any money.
FINRA's BrokerCheck shows complaints and disciplinary actions filed against brokers or firms. They also list when the broker or firm is no longer registered.
SEC Investment Advisor Public Disclosure IAPD They compile background information on brokers and broker-dealer firms.
North American Administrators Association This group lists contact information for state regulators and can be helpful for customers when filing a complaint against a broker or firm.
Investing is inherently risky, shouldn't I expect losses?
Losses don't have to be a fact of life for investors. There are several ways irresponsible broker behavior can expose customers to unnecessary risks.
Investors can protect themselves from risk by ensuring a broker considers your best interests, not just their commission.
How can I protect myself from future broker misconduct and fraud?
Investing is a complex business and your broker has an obligation to explain your investment options. If you don't understand what they are talking about, speak up! Ask questions and insist on answers when you don't understand.
Rarely will an advisor admit to they made a mistake. Closely following your account and statements will alert you to potential issues as soon as they appear. Keep detailed records of all contacts with your broker and their dealings. If you suspect fraud, details like name and contact information, regulatory registration number, and a timeline of events may be the key to your loss recovery.
Why do so few investors file claims to recover investment loss?
There is a long list of reasons investors may not seek recovery when they have suffered losses.
They are too embarrassed to admit they misplaced trust in a dishonest financial professional.
They think the loss is their fault and chalk it up to the inherent risks of investing when an actually a broker is to blame.
The investment was too complicated. They didn't understand it to begin with, so they don't fully understand their losses.
They haven't followed their investments closely enough to notice, don't understand their statement or the losses were concealed by the broker or firm.
Advisors often discourage investors from filing complaints, telling customers the losses are only temporary.
Don't let these misconceptions stop you from filing a claim. An investment loss attorney is well equipped to help you research your options and file a claim. It's okay to ask for help to determine if your loss is recoverable.
I may have been a victim of investment abuse, what should I do?
If you have suffered large or unnecessary investment related losses, consult an experienced investment loss attorney for a case evaluation. The best attorneys work on a contingency so you only pay fees if you win. They will be honest and forthright about your case and can determine the best path for investment loss recovery.
The Investment Loss Attorneys at Sonn Law Group Can Help
At Sonn Law Group, our investment loss lawyers have extensive experience representing clients who have experienced losses related to stockbroker misconduct and investment fraud. Contact us for a free case review. We will determine if you have a reasonable claim and help you decide how to proceed.
---
DISCLAIMER: This article contains opinions and not statements of fact in any way whatsoever. The information here is general information that should not be taken as legal advice. No attorney-client relationship is established between you and our attorneys by reading this article. This article is attorney advertising and should not be used as a substitute for legal advice from a qualified lawyer.