Dixon was terminated from his member firm based on allegations of violating firm policies regarding use of non-genuine client signatures.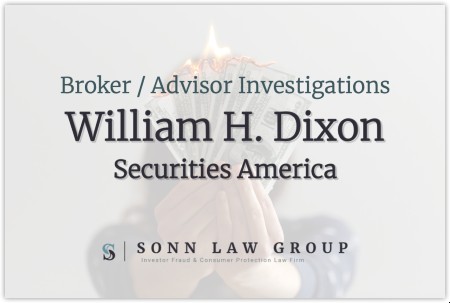 William "Bill" Dixon (CRD: 68881) was registered as a broker with Securities America from 2016 until 2019. Previously, Dixon was registered as a broker with Wall Street Financial Group from 1998 until 2016. Dixon has been employed in the financial industry since 1973.
Viyella has six other disclosures on his BrokerCheck report.
May 2021 Regulatory Judgment
Status:

Final

Initiated By:

FINRA

Allegations:

Without admitting or denying the findings, Dixon consented to the sanction and to the entry of findings that he failed to provide documents requested by FINRA in connection with a Form U5 filed by Dixon's former member firm, terminating his association with the firm as a result of his violation of the firm's policies regarding the use of non-genuine client signatures.

Resolution:

Acceptance, Waiver & Consent (AWC)

Sanctions:

Bar

Registration Capacities Affected:

All Capacities

Duration:

Indefinite

Start Date:

5/11/2021
---
September 2019 Employment Separation After Allegations
Firm Name:

Securities America, Inc.

Termination Type: Discharged
Allegations:

The representative was subject of allegations that he signed his deceased client's signature and initials to multiple annuity surrender forms. The representative admitted to the alleged activity and was subsequently discharged for violating the Firm's policies and procedures regarding use of nongenuine client signatures.

Broker Comment:

In December of 2018 my friend and client [REDACTED] asked me to cash in her Prudential annuity policies so she could have the pleasure of giving her money to her son since she was suffering from [REDACTED]. I brought [REDACTED] the liquidation forms which we processed together and her four redemption checks from Prudential were sent to her address. [REDACTED] failed to cash the four checks before she died on December 30, 2018. [REDACTED] daughter-in-law called with the bad news and asked me to have Prudential reissue the checks in the name of her estate. Prudential refused me since [REDACTED] had died and I was no longer her representative. I sent in a new redemption form for [REDACTED] and forgot to initial it with my name. I was also suffering from [REDACTED] undergoing [REDACTED] when I did this. This is why I made this mistake. My old firm Securities America dismissed me because of this on 9-16-19.
---
September 2016 Customer Dispute
Status:

Denied

Allegations:

Suitability

Damage Amount Requested:

$8,422.49

Broker Comment:

This complaint was originally sent to Prudential, Prudential sent Wall Street an Inquiry on September 8, 2016, Wall Street responded to Prudential on September 13, 2016. Prudential responded to the client on 09/28/2016, denying all claims.
---
September 2008 Customer Dispute
Status:

Denied

Allegations:

Client alleges unaware of sales charges related to transactions.

Broker Comment:

After review of documents, found insufficient evidence to support complaint.
---
Contact Us Today
The Sonn Law Group is currently investigating allegations surrounding William Herman Dixon. We represent investors in claims against negligent brokers and brokerage firms. If you or your loved one experienced investment losses, we are here to help. For a free consultation, please call us now at 866-827-3202 or complete our contact form.