Connerton allegedly defrauded over 70 people of more than $2 million dollars.
The Sonn Law Group is investigating allegations that Thomas Connerton defrauded investors. If you or a family member has suffered losses investing, we want to discuss your case. Please contact us today for a free review of your case.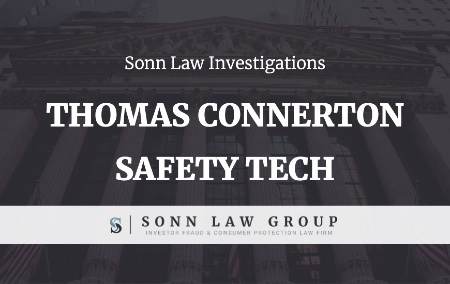 Thomas Connerton of Stamford, Connecticut, was the founder, president, and CEO of Safety Technologies ("Safety Tech"). Safety Tech is a Connecticut company with its principal place of business in Stamford.  
Safety Tech was founded in 2006 for the purpose of developing and commercializing a highly durable puncture and cut-resistant material to be used in surgical gloves and related markets.
The company, however, had not obtained any patents from the US Patent and Trademark Office and the company's securities were not registered with the SEC.
U.S. Attorney for Connecticut, John H. Durham, stated, "Beginning in [June 2009], Connerton induced victim-investors to provide him funds and to purchase Safety Tech securities by falsely representing that the valuation of Safety Tech was realistically in the tens or hundreds of millions of dollars, that a lucrative deal to sell or license his glove technology was imminent and that he would use their funds for research and development, product testing and to bring the product to market. Connerton offered his investors small amounts of equity in Safety Tech through 'subscription agreements' or investments contracts through which he sold what he described as 'units.'"
Connerton allegedly met many of the investors on a popular dating website. He made false representations to investors, stating at one point that there would be no investor that would lose money by investing in Safety Tech. Instead of investing the funds, they were used to pay personal expenses and to repay earlier investors. 
"Through this scheme, Connerton defrauded more than 70 victim-investors of more than $2.2 million," Durham said in a statement. "The investigation also revealed that Connerton engaged in monetary transactions in an attempt to conceal from the FBI and the SEC the nature and source of funds received by Safety Tech from the sale of Safety Tech securities. Connerton negotiated checks and purchased bank checks in order to move the fraudulent proceeds from one account to another."
On September 17, 2018, Connerton was found guilty of twelve counts of wire fraud, one count of mail fraud, sixteen counts of securities fraud, four counts of money laundering, and one count of tax evasion. Connerton failed to pay nearly $300,000 in federal income taxes between 2003 and 2015. 
Connerton was also sentenced to nine years in prison, followed by three years of supervised release. 
Contact Us Today
The Sonn Law Group is currently investigating allegations that Thomas Connerton defrauded investors. We represent investors in claims against negligent brokers and brokerage firms. If you or your loved one experienced investment losses, we are here to help. For a free consultation, please call us now at 866-827-3202 or complete our contact form.