Bonk allegedly accepted a loan from a customer of his member firm and made false statements to conceal the loan.
The Sonn Law Group is investigating allegations that Terrence Bonk borrowed money from a customer. If you or a family member has suffered losses investing, we want to discuss your case. Please contact us today for a free review of your case.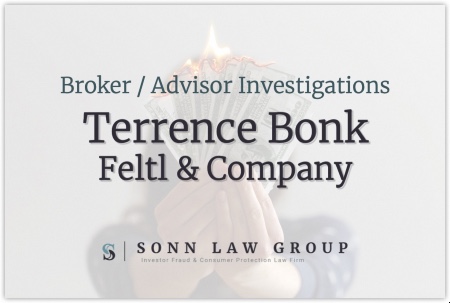 Terrence Bonk (CRD#: 1011846) was a registered broker with Feltl & Company in Inver Grove Heights, MN from November 2014 until August 2019. Prior to that, he was registered with RBC Capital Markets in St. Paul, MN from March 2010 until December 2014. 
On February 25, 2020, Bonk consented to the sanctions of nine months suspension from the financial industry and a fine of $10,000. He also consented to the entry of findings that he borrowed $8,000 from a relative, who was also his customer, in September 2018. Bonk did not disclose this loan to Feltl or seek prior approval for receiving the loan, which was required by Feltl's supervisory procedures. 
The findings also stated that Bonk provided false or misleading information to his member firm, in violation of FINRA Rule 2010. Bonk allegedly responded "No" when asked if he had borrowed money from any clients on a Registered Representative Questionnaire that he completed in August of 2019. 
Allegedly on August 5, 2019, when the customer demanded that Bonk repay the loan in an email, Bonk requested that the customer send an additional email stating that the loan at issue was made to Bonk's brother, and not to Bonk directly. The customer did so. After discovering the emails, Bonk's supervisor allegedly confronted him about whether he had borrowed money from the customer. Bonk falsely stated that his brother had borrowed the money, not him. 
Contact Us Today
The Sonn Law Group is currently investigating allegations that Terrence Bonk borrowed money from a customer without approval. We represent investors in claims against negligent brokers and brokerage firms. If you or your loved one experienced investment losses, we are here to help. For a free consultation, please call us now at 866-827-3202 or complete our contact form.