Cody previously pled guilty to criminal charges alleging that he defrauded retirees. 
The Sonn Law Group is investigating allegations that Richard Cody committed fraud. If you or a family member has suffered losses investing, we want to discuss your case. Please contact us today for a free review of your case.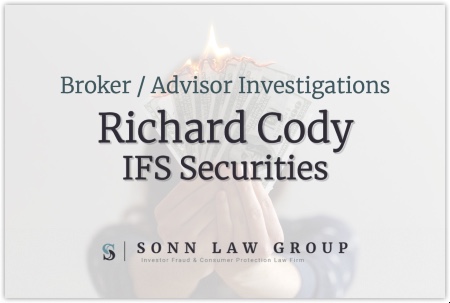 Richard Cody (CRD#: 2794558) was named in an SEC complaint filed on December 12, 2016, alleging that he defrauded at least three of his retired clients over a 12-year period by concealing extensive losses in the investors' retirement accounts, which were being depleted.
Cody misled the clients to believe that their investments were maintaining steady value and that the clients were living off income from the investments. 
The federal district court where the complaint was filed previously ordered a preliminary injunction and asset freeze against Cody and his company, Boston Investments Partners, LLC. Then on December 23, 2019, the court entered a final judgment against Cody and granted the SEC's motion for summary judgment. The court also found that Cody violated the antifraud provisions of Section 206(2) of the Investment Advisers Act of 1940 and Section 10(b) of the Securities Exchange Act of 1934 and Rule 10b-5(c) thereunder.
The court permanently enjoined Cody from violating those provisions and Section 206(1) of the Advisers Act and ordered Cody to pay disgorgement of $14,171 plus pre-judgment interest of $3,490. The SEC moved to dismiss relief defendant Boston Investment Partners from the action on February 14, 2020.
Cody had previously pled guilty to criminal charges brought by the U.S. Attorney for the District of Massachusetts based on the same conduct alleged in the SEC's complaint. On March 7, 2019, Cody was sentenced to two years of imprisonment and ordered to pay a $10,000 fine. 
Prior to his guilty plea, Cody had already been barred by FINRA in March of 2018. Cody's broker check record shows 34 disclosures, 30 of which occurred within the past four years. Cody got his start in the investment industry in 1997 with Merrill Lynch.
Contact Us Today
The Sonn Law Group is currently investigating allegations that Richard Cody committed fraud. We represent investors in claims against negligent brokers and brokerage firms. If you or your loved one experienced investment losses, we are here to help. For a free consultation, please call us now at 866-827-3202 or complete our contact form.