Michael Collins was accused of participating in the transactions without providing notice to his member firm.
The Sonn Law Group is investigating allegations that Michael Collins committed misconduct. If you or a family member has suffered losses investing, we want to discuss your case. Please contact us today for a free review of your case.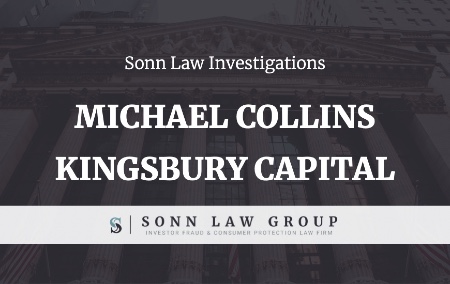 Michael Collins (CRD#: 2915653) consented to the sanctions and to the entry of findings that he participated in private securities transactions totaling approximately $200,000 without providing prior notice to his member firm.
The findings stated that Collins solicited individuals to invest in membership units of a limited liability company organized to operate a new restaurant in Chicago, Illinois. Although the firm had approved Collins and his father's own investment in the limited liability company, the firm prohibited Collins from soliciting any other investors. 
Some of the investors, solicited by Collins to invest in the membership units of the limited liability company, were customers of his firm. The restaurant opened and closed approximately nine months later. Collins also failed to disclose the participation in his annual compliance attestations. 
Prior to the events at issue here, the firm issued Collins a Letter of Education warning him that he could not participate in private securities transactions without authorization. The Letter of Education related to an instance where Collins forwarded to a firm customer an email relating to outside investment in a separate restaurant.
Collins was also the subject of a customer dispute in February 2018. The complaint alleged excessive fees were charged to the client's accounts. The matter was settled for $18,538.
Contact Us Today
The Sonn Law Group is currently investigating allegations of misconduct. We represent investors in claims against negligent brokers and brokerage firms. If you or your loved one experienced investment losses, we are here to help. For a free consultation, please call us now at 866-827-3202 or complete our contact form.