FINRA sought information from Kresiberg concerning his potential participation in a private placement offering.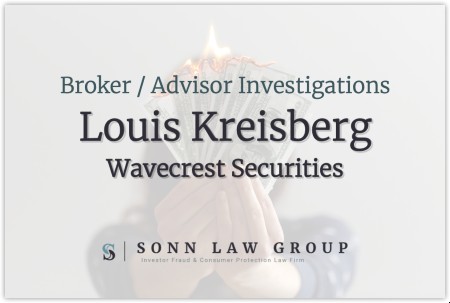 Louis Kreisberg (CRD: 1352881) was registered as a broker Pickwick Capital Partners until January 2020. Previously, Kreisberg was registered as a broker with Trump Securities from 2010 until 2011.
Kreisberg has one disclosure on his BrokerCheck report.
June 2021 Regulatory Judgment
Status:

Final

Initiated By:

FINRA

Allegations:

Without admitting or denying the findings, Kreisberg consented to the sanction and to the entry of findings that he refused to produce information and documents requested by FINRA during the course of an investigation of his potential participation in a private placement offering. The findings stated that Kreisberg initially responded to FINRA, however, certain requested documents were not produced and ultimately he refused to produce them or participate further in the investigation.

Resolution:

Acceptance, Waiver & Consent (AWC)

Sanctions:

Bar

Registration Capacities Affected:

All Capacities

Duration:

Indefinite

Start Date:

6/3/2021
---
Contact Us Today
The Sonn Law Group is currently investigating allegations surrounding Louis Kreisberg. We represent investors in claims against negligent brokers and brokerage firms. If you or your loved one experienced investment losses, we are here to help. For a free consultation, please call us now at 866-827-3202 or complete our contact form.