The customer is seeking over $200K in damages for Barber's alleged misconduct.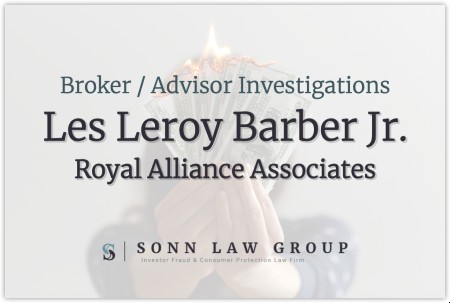 Les Leroy Barber Jr. (CRD: 1256348) is registered as a broker and investment adviser with Royal Alliance Associates, where he has been employed since 2013. Previously, Barber was registered as an investment adviser with Lincoln Financial Advisors from 2004 until 2013.
Barber has four disclosures on his BrokerCheck report. One customer dispute filed against Barber was denied.
December 2020 Customer Dispute
Status:

Pending

Allegations:

Claimant alleges private placement recommendations were not suitable.

Damage Amount Requested:

$237,000.00
---
November 2015 Customer Dispute
Status:

Pending

Allegations:

Claimant alleges the investments sold to him beginning in June 2008 through October 2009 were to be safe, fixed income investments for his retirement in accordance with his needs and financial objectives but instead all of his retirement savings were put into highly risky and illiquid investments.

Damage Amount Requested:

$325,000.00

Settlement Amount:

$172,500.00

Broker Comment:

The client approached me in 2008 and 2009 looking for a specific, additional investments they had previously participated in through other broker dealers. The investments did not perform to the clients expectations and filed a lawsuit in which I was not named. As a result of the lawsuit Lincoln Financial Advisors settled with the client. I was not involved in the settlement nor did I approve of Lincoln Financial Advisors settling lawsuit.
---
February 2013 Employment Separation After Allegations
Firm Name:

Lincoln Financial Advisors Corporation

Termination Type:

Discharged

Allegations:

Registered Representative was terminated for violations of firm policy regarding communications with the public including a violation of firm policy related to client communications involving the solicitation of private placements.
---
Contact Us Today
The Sonn Law Group is currently investigating allegations surrounding Les Leroy Barber Jr. We represent investors in claims against negligent brokers and brokerage firms. If you or your loved one experienced investment losses, we are here to help. For a free consultation, please call us now at 866-827-3202 or complete our contact form.