Doyle was censured for allegedly using discretionary power without a client's written authorization.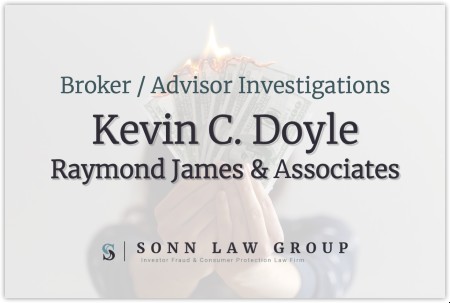 Kevin Carey Doyle (CRD#: 2102345) was registered as a broker with Raymond James & Associates from 2018 until 2021. Previously, Doyle was registered as a broker with Morgan Stanley from 2009 until 2018.
Doyle has three disclosures on his BrokerCheck report. 
September 2021 Regulatory Judgment
Initiated By: Oklahoma Department of Securities
Allegations: Respondent used discretionary power without the customer's written authorization and without Morgan Stanley's acceptance of the account as a discretionary account.
Resolution: Consent 
Sanctions: Civil and Administrative Penalty(ies)/Fine(s)
Amount: $15,000.00
Sanctions: Censure
---
April 2019 Customer Dispute
Status: Pending
Allegations: Claimant alleges, inter alia, excessive trading with respect to investments 2012-2018.
---
August 2008 Customer Dispute
Status: Settled
Allegations: Claimants allege, inter alia, that their investment strategy from 2012 – 2018 was unsuitable.
Damage Amount Requested: $43,456,291.00
Settlement Amount: $12,500,000.00
---
Contact Us Today
The Sonn Law Group is currently investigating allegations surrounding Kevin Carey Doyle. We represent investors in claims against negligent brokers and brokerage firms. If you or your loved one experienced investment losses, we are here to help. For a free consultation, please call us now at 866-827-3202 or complete our contact form.