Dipaola is accused of exercising discretion in his mother's investment account without written authorization and without notifying his member firm.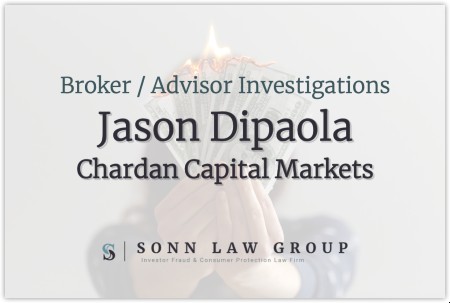 Jason "Jay" Dipaola (CRD: 2648836) was registered as a broker with Chardan Capital Markets from 2013 until 2019. Previously, Dipaola was registered as a broker with Aegis Capital Corp. from 2012 until 2013.
Dipaola has three disclosures on his BrokerCheck report.
May 2021 Regulatory Judgment
Status:

Pending

Initiated By:

FINRA

Allegations:

DiPaola was named a respondent in a FINRA complaint alleging that he failed to disclose his mother's securities account at another broker-dealer to his member firm, and also failed to inform the other broker-dealer that he was exercising discretion and control over the trading in this account while he was an associated person of his firm. The complaint alleges that DiPaola was required to notify his firm in writing of the existence of his mother's account at the other broker-dealer because he had discretionary authority in her account. He actively traded her account and repeatedly exercised discretion in her account. DiPaola also was required to notify the other broker-dealer in writing of the fact that DiPaola maintained discretionary authority in his mother's account while he was an associated person of a broker-dealer. The complaint also alleges that DiPaola submitted false and misleading employee compliance questionnaire and certification forms to his firm. In these false and misleading forms, DiPaola failed to disclose the existence of his mother's account at the other broker-dealer when he was asked to identify all securities accounts which he controlled. The complaint further alleges that DiPaola failed to appear for on-the-record (OTR) testimony requested by FINRA. DiPaola's failure to appear and provide OTR testimony impeded FINRA's investigation and deprived it of material information in DiPaola's possession.
---
April 2019 Employment Separation After Allegations
Firm Name:

Chardan Capital Markets LLC

Termination Type:

Permitted to Resign

Allegations:

In an On The Record interview with FINRA Staff, Mr. DiPaola admitted that for a period of time he entered orders for the purchase and sale of securities in his mother's account held away from Chardan without having obtained written discretionary authority or disclosing this arrangement to Chardan, in violation of both FINRA rules and Chardan's internal policy.
---
March 2008 Customer Dispute
Status:

Settled

Allegations:

Claimants allege that Dipaola recommended unsuitable investments and provided other inappropriate advice during 2000 and 2001.

Damage Amount Requested:

$575,000.00

Settlement Amount:

$75,000.00
---
Contact Us Today
The Sonn Law Group is currently investigating allegations surrounding Jason Dipaola. We represent investors in claims against negligent brokers and brokerage firms. If you or your loved one experienced investment losses, we are here to help. For a free consultation, please call us now at 866-827-3202 or complete our contact form.