Willing allegedly made unapproved personal investments in 2015 and 2016.
The Sonn Law Group is investigating allegations that James Willing made unapproved personal investments. If you or a family member has suffered losses investing, we want to discuss your case. Please contact us today for a free review of your case.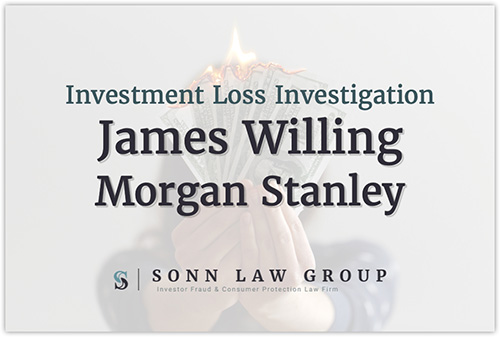 James Willing (CRD#: 468560) consented to a 35-day suspension and a fine of $7,500 from FINRA beginning on February 3, 2020.
FINRA's findings stated that he invested a total of $62,500 of his own money in a series of private securities transactions without providing prior written notice of or receiving written approval for these transactions from his member firm.
The findings stated that Willing's transactions involved pooled investment fund interests offered by a limited partnership which were securities. These investments were solely of Willing's personal assets and did not involve customer assets. Later, Willing provided written notification to the firm regarding the private securities transactions by filing a private investment disclosure.
Willing was also subject to regulatory action initiated by Massachusetts Securities Division in 2019. The allegations stated, "Mr. Willing has been the subject of two (2) disclosure incidents as reported on the CRD, one customer complaint and one termination.
These disclosures include termination from Morgan Stanley, alleging, inter alia, that Willing failed to timely, accurately, or completely disclose certain outside private securities transactions in which he participated to Morgan Stanley, and that Willing provided a loan to an employee in his branch without Morgan Stanley's knowledge or approval." Based on this information, Willing was subject to heightened supervision in the exercise of his duties. 
In 2018, Willing was discharged by Morgan Stanley following allegations about the timing and completeness of disclosures to the firm regarding involvement in private investments outside the firm. Willing is currently employed by Moors & Cabot, Inc.
Contact Us Today
The Sonn Law Group is currently investigating allegations that James Willing made unapproved investments. We represent investors in claims against negligent brokers and brokerage firms. If you or your loved one experienced investment losses, we are here to help. For a free consultation, please call us now at 866-827-3202 or complete our contact form.