The SEC entered a final consent judgment against Hafen, who was charged in September 2019 with misappropriation of clients' funds.
The Sonn Law Group is investigating allegations that Herbert Hafen misappropriated client funds. If you or a family member has suffered losses investing, we want to discuss your case. Please contact us today for a free review of your case.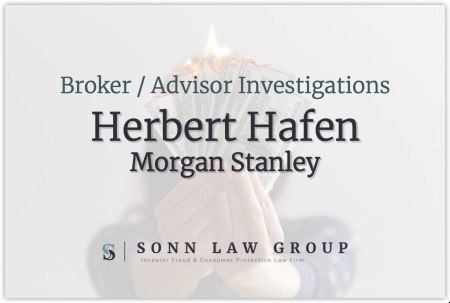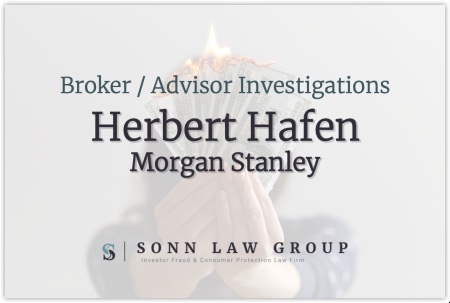 Herbert Hafen is a previously registered broker and investment advisor. Most recently, Mr. Hafen was an associate of Wells Fargo Clearing Services in New York City (2018). Prior to that, he was a representative for Morgan Stanley, where he was also based in New York City (2009 to 2018).
In August of 2018, Herbert Hafen was terminated by Wells Fargo following allegations that he misappropriated customer funds between 2011 and 2018 while serving as a representative for Morgan Stanley. Notably, he has since been barred by FINRA for failing to cooperate with an official investigation into these allegations. On September 4, 2019, the SEC filed a complaint charging Herbert Hafen with securities fraud for defrauding his advisory clients by promoting a fraudulent investment opportunity.
According to the complaint, Hafen instructed his clients to withdraw their money from the financial institution where Hafen worked, including liquidating stock holdings and personal retirement accounts, deposit that money into their personal bank accounts, and then transfer or wire the money to Hafen's personal bank account.
The complaint further alleges that once Hafen received his clients' money, he did not invest it as promised, but instead used it for his own personal purposes, including paying house, car, and credit card expenses for himself and family members.
The Court entered a final judgment against Hafen based upon his consent to resolve all claims. The final judgment enjoins Hafen from violating the antifraud provisions of Section 10(b) of the Securities Exchange Act of 1934 and Rule 10b-5 thereunder, and Sections 206(1) and 206(2) of the Investment Advisers Act of 1940.
The Commission has also entered an order barring Hafen from associating with any broker, dealer, investment adviser, municipal securities dealer, municipal advisor, transfer agent, or nationally recognized statistical rating organization, and from participating in any offering of a penny stock.
In a parallel action, the U.S. Attorney's Office for the Southern District of New York filed criminal charges against Hafen, who agreed to plead guilty to the criminal charges. Hafen was sentenced on February 4, 2020, to 30 months in prison. He was also ordered to pay restitution of $745,000 and forfeit $806,750.
Contact Us Today
The Sonn Law Group is currently investigating allegations that Herbert Hafen misappropriated clients' funds. We represent investors in claims against negligent brokers and brokerage firms. If you or your loved one experienced investment losses, we are here to help. For a free consultation, please call us now at 866-827-3202 or complete our contact form.