Nergard was suspended by the Arizona Corporation Commission Securities Division.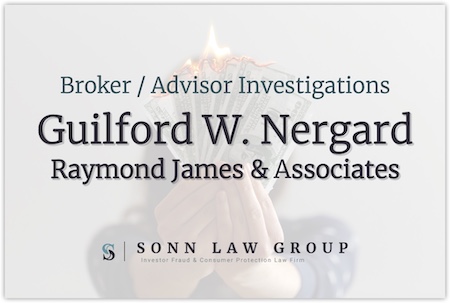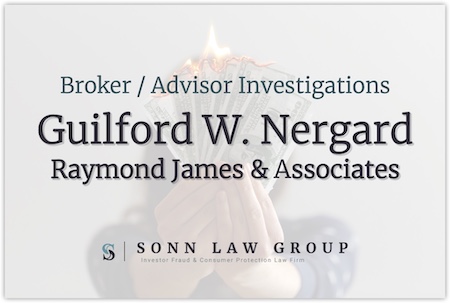 Guilford Ward Nergard (CRD#: 2360614) was registered as a broker with Raymond James & Associates from 2013 until 2020. Previously, Nergard was registered as a broker with Morgan Stanley from 2009 until 2013.
Nergard has seven disclosures on his BrokerCheck report. 
May 2021 Customer Dispute
Status:

Settled

Allegations:

Client alleged poor performance due to the mismanagement of accounts. Alleged Activity Dates: 6/4/2013 – 11/6/2020.

Damage Amount Requested:

$383,584.10

Settlement Amount:

$175,000.00

Broker Comment:

This claim is without merit because rep consistently spoke with the client in great detail over the last 20 years, so client had full knowledge and understanding of all positions and account strategy. There were no problems with the client until a new Advisor assumed management of the account after rep left Raymond James in November 2020. Rep and client spoke quite often – it was easy to pick up the phone to call client because rep and client had a great relationship. Not only was the rationale behind the trades fully disclosed, but also the overall account strategy and market conditions. Rep and client would also discuss news about the client's former employer Intel and about how over-valued Tesla was. Any client's concerns were quickly explained, and several times the client complimented rep on his diligence both orally and in writing. The complaint occurred toward the 2020 Covid market bottom for Value stocks (which client held). It appears the new advisor sold those Value stocks at the November 2020 Value stock bottom, because the client would have recovered the complaint amount if those Value stocks were held during the significant November 2020 to June 2021 Value stock run-up.
---
March 2021 Regulatory Judgment
Status:

Final

Initiated By:

Arizona Corporation Commission Securities Division

Allegations:

Respondent made discretionary trades for his clients without proper authorization.

Resolution:

Consent

Sanctions:

Cease and Desist

Sanctions:

Civil and Administrative Penalty(ies)/Fine(s)

Amount:

$2,500.00

Sanctions:

Suspension

Registration Capacities Affected:

General Registered Representative

Duration:

Three months

Start Date:

4/1/2021

End Date:

6/20/2021

Broker Comment:

Guilford Nergard admitted to the Findings of Fact and Conclusions of Law contained in Decision 77919, and consented to the entry of the Order by the Arizona Corporation Commission.
---
November 2011 Employment Separation After Allegations
Firm Name:

Raymond James Associates

Termination Type:

Discharged

Allegations:

In violation of Firm policy, FA did not obtain Firm approval prior to executing trades that exceeded use of time discretion in non-discretionary advisory accounts.
---
October 2020 Customer Dispute
Status:

Pending

Allegations:

Client alleges unauthorized trading and excessive trading.

Damage Amount Requested:

$158,433.90

Broker Comment:

This claim is without merit and resulted from a misunderstanding with the client regarding the investment strategies we discussed to reduce risk and volatility due to the pandemic which required an increase in trading activity, including the use of covered-calls and various transactions early in the year to diversify the client's portfolio. The client never mentioned a problem with trades until the account was being transferred in September, and I never had the chance to explain to the client what occurred and why, to be able to clear up any misunderstandings. I did not receive any additional compensation for the increased activity as the account was fee-based, and the strategy was designed solely to reduce risk related to the pandemic.
---
June 2008 Customer Dispute
Status:

Settled

Allegations:

This verbal complaint arose out of the sale of an auction rate security (ARS) that was made prior to the widespread illiquidity in the ARS market that occurred in February 2008. Damage unspecified.

Settlement Amount:

$50,116.50

Broker Comment:

This matter involves the sale of Auction Rate Securities (ARS). The transaction(s) at issue took place before mid-February 2008, when the ARS market suffered widespread auction failures and illiquidity. The financial advisor did not cause, contribute or have any control whatsoever over these market events. The firm reached agreement with certain of its regulators, pursuant to which it repurchased ARS for their full par value from certain clients, including the instant client, whether they complained or not. The financial advisor was not a party to that agreement, did not make any payment to the client, and was not asked to and did not contribute to the repurchase amount. The settlement amount in Item 11 above reflects the par value of the repurchased ARS, as required by FINRA Regulatory Notice 09-12.
---
August 2004 Customer Dispute
Status:

Settled

Allegations:

Unsuitability, unauthorized trading, breach of fiduciary duty, misrepresentation. 10/01/00

Damage Amount Requested:

$12,949.31

Settlement Amount:

$9,999.99

Broker Comment:

FC was dismissed as part of the settlement and did not contribute to it.
---
Contact Us Today
The Sonn Law Group is currently investigating allegations surrounding Guilford Ward Nergard. We represent investors in claims against negligent brokers and brokerage firms. If you or your loved one experienced investment losses, we are here to help. For a free consultation, please call us now at 866-827-3202 or complete our contact form.