Manning is accused of maintaining an outside securities account without notifying his member firm.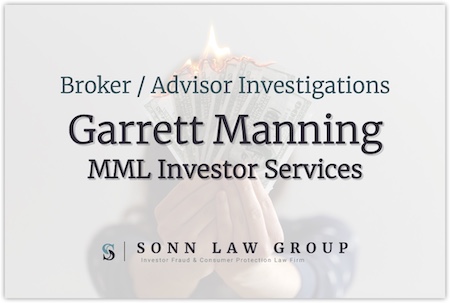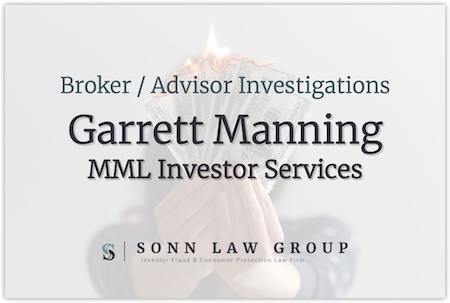 Garrett Manning (CRD#: 6887127) is registered as a broker and investment adviser with MML Investors Services, where he's been employed since 2019. Previously, Manning was registered as a broker with FBL Marketing Services from 2018 until 2019.
Manning has one disclosure on his BrokerCheck report. 
November 2021 Regulatory Judgment
Status:

Final

Initiated By:

FINRA

Allegations:

Without admitting or denying the findings, Manning consented to the sanctions and to the entry of findings that he failed to obtain written consent from his member firm to maintain an outside securities account and failed to notify the firm where he held the account that he was associated with his firm. The findings stated that Manning failed to obtain written consent from his new firm to maintain or open outside securities accounts and failed to inform the firm at which one of the accounts was held of his association with his new firm. When Manning became associated with his new firm, he informed that firm that he maintained the account at another firm. Shortly thereafter, Manning's new firm directed him to close the account. Despite the direction, Manning maintained the until his new firm asked for confirmation that the account had been closed. In addition, Manning opened a second outside securities account at another firm without obtaining his new firm's prior written consent. Manning, however, disclosed his association with his new firm to the firm where he held the second account. Manning did not disclose the second account to his new firm until after FINRA inquired about his outside securities accounts. While associated with his previous firm and his new firm, Manning falsely attested on the firms' annual compliance questionnaires that he maintained no outside securities accounts.

Resolution:

Acceptance, Waiver & Consent (AWC)

Sanctions:

Civil and Administrative Penalty(ies)/Fine(s)

Amount:

$2,500.00

Sanctions:

Suspension

Registration Capacities Affected:

All Capacities

Duration:

Three months

Start Date:

12/6/2021

End Date:

3/5/2022
---
Contact Us Today
The Sonn Law Group is currently investigating allegations surrounding Garrett Manning. We represent investors in claims against negligent brokers and brokerage firms. If you or your loved one experienced investment losses, we are here to help. For a free consultation, please call us now at 866-827-3202 or complete our contact form.