Mastrosimone is facing a $100K customer dispute over the allegations.
The Sonn Law Group is investigating allegations that Frank Mastrosimone made inappropriate recommendations. If you or a family member has suffered losses investing, we want to discuss your case. Please contact us today for a free review of your case.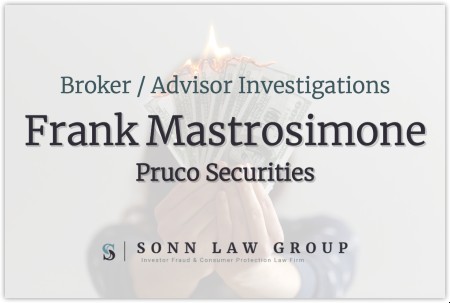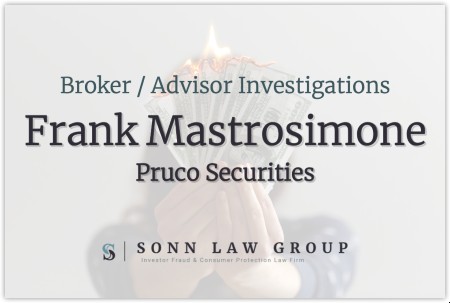 Frank Mastrosimone (CRD#: 322615) is registered as a broker and investment adviser with Pruco Securities, where he has been employed since 2004. Previously, Mastrosimone was a broker with Financial Network Investment Corporation from 1989 until 2004.
Mastrosimone has four disclosures on his BrokerCheck report, one of the disclosures includes criminal charges that were dismissed.
March 2020 Customer Dispute
Status:

Pending

Allegations:

It is alleged that private investment fund was inappropriate for client.

Damage Amount Requested:

$100,000.00
---
August 1987 Regulatory Judgment
Status:

Final

Initiated By:

National Association of Securities Dealers, Inc.

Allegations:

Caused transactions involving the liquidation and reinvestment of investment company shares, which transactions were unsuitable for the customers and were without reasonable justification

Resolution:

Decision & Order of Offer of Settlement

Sanctions:

Monetary/Fine

Amount:

$3,000.00

Sanctions:

Censure

Sanction Details:

Censured and Fined $3,000.00. $3,000 paid 12/28/88 – Deposit #395

Broker Comment:

In most of the transactions the investor had held the security that was sold for a substantial period of time and in none of the transactions was there more than one transfer of investment. In each instance the investor acknowledged in writing his or her understanding that an additional sales load had to be paid to make the new investment after the charges had been explained and had the investor continued to hold the shares into which he was switched the investment results would have covered the sales load. In the majority of the cases the new investment substantially outperformed the fund out of which the investor was switched. In a number of cases the investor was encouraged to switch out of funds managed by National Securities at a time when that organization was undergoing a takeover battle and internal conflicts. 
---
November 1986 Regulatory Judgment
Status:

Final

Initiated By:

Vermont

Allegations:

Switching of long-held mutual funds, failure to meet "full-disclosure" and "know your client" standards under 9 V.S.A. Sections 4221A(4) and 4224.

Resolution:

Consent

Sanctions:

Disgorgement/Restitution

Sanction Details:

Pursuant to consent order, investors will be restored to original mutual fund at no cost, reimbursed for any adverse tax consequences, and not solicited further for a period of one year.

Broker Comment:

When two RR's left our firm I was asked to service accounts in the State of Vermont in 1986. I saw at least 50 clients, some warranted action some did not. The two RR's (having opened their own firm) contacted clients to encourage them to make complaints. This was done to protect the RR's interests and not for the sake of the client. Although ultimately it was proven beyond a doubt that the action that was recommended by me was in the best interest. We still have to [pay] a fine because we offered to re-instate the clients to their previous positions. We did not want to have any further proceedings. This was an unfair action & has haunted me for 15 years. Otherwise I have 29 years of an unblemished record.
---
Contact Us Today
The Sonn Law Group is currently investigating allegations that Frank Mastrosimone recommended an inappropriate private investment. We represent investors in claims against negligent brokers and brokerage firms. If you or your loved one experienced investment losses, we are here to help. For a free consultation, please call us now at 866-827-3202 or complete our contact form.