Smerling is facing possible jail time and a serious fine after accusations of forging investment documents to receive a hefty loan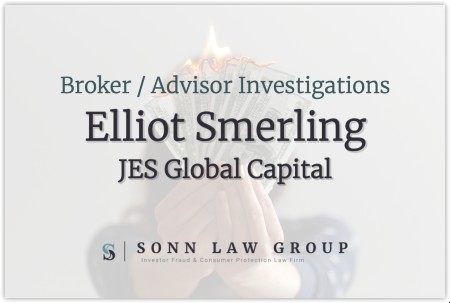 The Miami Herld is reporting that Florida-based fund manager Elliot Smerling has been arrested and charged with wire fraud and aggravated identify theft. The criminal complaint filed against Smerling on February 26, 2021, alleged numerous allegations against Smerling. 
Smerling is accused of providing false information in a December 2020 loan application with Silicon Valley Bank, including that a private New York University agreed to invest $45 million in one of his funds. Smerling also allegedly claimed that an unnamed New York investment bank committed to a future $40 billion investment in the same fund.
Smerling reportedly submitted a forged audit letter attesting to the financial health of the fund and later sent a falsified bank statement from one year earlier. The bank statement showed a $4.5 million wire transfer from the university and a $4 million wire transfer from the investment bank as part of their supposed investments. Smerling eventually obtained a $95 million loan. 
Smerling owns multiple houses in Florida, one in New York, and one in Brazil. The Assistant U.S. Attorney Adam McMichael referenced Smerling's "extreme wealth" when arguing against bail. Smerling was denied bail. U.S. Magistrate Judge William Matthewman stated, "[t]he alleged fraud here involves $95 million which is an awful lot of money . . ." in denying Smerling's request for bail.
The parent company for Silicon Valley Bank indicated that it was participating with law enforcement in investigating the bank's loan to Smerling's fund, JES Global Capital III, which may be fraudulent. The loan was reportedly wired from Silicon Valley Bank to Sumitomo Mitsui Banking Corporation, a Japanese bank where Smerling had allegedly taken out a loan. 
Smerling is said to have provided Silicon Valley Bank with a table listing $500 million in investor pledges as of December 2019, including the fictitious investments from the New York University and investment bank. 
Smerling is the manager of four investment funds, including: 
JES Global Capital GP III; and 
JES Special Ventures Opportunity Fund.
Smerling is facing up to 30 years in prison and a fine of up to $190 million if he is found guilty.
Contact Us Today
The Sonn Law Group is currently investigating allegations surrounding Elliot Smerling. We represent investors in claims against negligent brokers and brokerage firms. If you or your loved one experienced investment losses, we are here to help. For a free consultation, please call us now at 866-827-3202 or complete our contact form.