Rosenberg alleges GPB Capital Holdings violated dealership franchise agreements by firing him.
The Sonn Law Group is investigating allegations that brokers have recommended investments in GPB Capital Holdings or its affiliates without fully disclosing the risk associated with them. If you or a family member has suffered losses investing in GPB Capital Holdings, we want to discuss your case. Please contact us today for a free review of your case.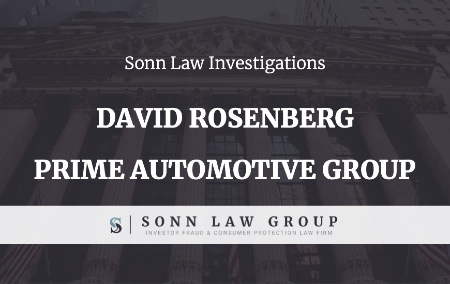 David Rosenberg was the CEO of Prime Automotive Group when he sued GPB Capital Holdings in July 2019, alleging financial misconduct. Rosenberg was subsequently fired in September. Now, Rosenberg has amended his legal complaint against GPB Capital to include a breach of contract claim.
The complaint alleges that GPB Capital contractually agreed to retain Rosenberg as the dealerships' sole decision-maker and could not legally remove him without authorization from the auto manufacturers, which was not obtained. 
Rosenberg's lawsuit was originally filed in July and accused the company of operating a Ponzi scheme, using funds from new investors to pay out dividends. The lawsuit was triggered when GPB Capital failed to pay Rosenberg $5.9 million as part of its buyout of Rosenberg's stake in a fund that is behind the purchase of dozens of auto dealerships. Rosenberg alleged that he was fired in September in retaliation for the lawsuit he filed. 
GPB Capital is at the heart of several other lawsuits and regulatory actions involving charges of fraud and operating a Ponzi scheme. Company spokeswoman Nancy Sterling responded to Rosenberg's latest allegations in an emailed statement.
"GPB strongly denies Mr. Rosenberg's accusations and intends to vigorously defend against them," she said. "As a standard good governance practice, we therefore proactively engaged an independent law firm to investigate."
GPB Capital is also facing a lawsuit filed in the U.S. District Court for the District of Western Texas, mirroring the allegations made by Mr. Rosenberg that they were operating a Ponzi scheme. The lawsuit is seeking certification as a class action. The complaint alleges that GPB misleads at least 2,000 investors into contributing over $1.8 billion to the scheme. 
Contact Us Today
The Sonn Law Group is currently investigating allegations that brokers recommended investments with GPB Capital Holdings. We represent investors in claims against negligent brokers and brokerage firms. If you or your loved one experienced investment losses, we are here to help. For a free consultation, please call us now at 866-827-3202 or complete our contact form.