Melilli is accused of unauthorized trading and recommending unsuitable investments.
The Sonn Law Group is investigating allegations that Bryant Caveness committed misconduct.  If you or a family member has suffered losses investing, we want to discuss your case. Please contact us today for a free review of your case.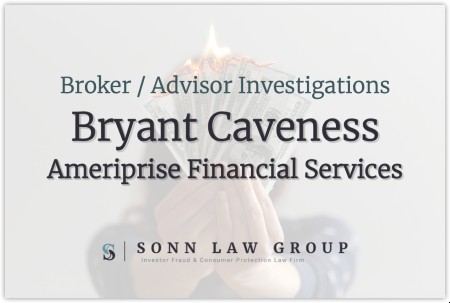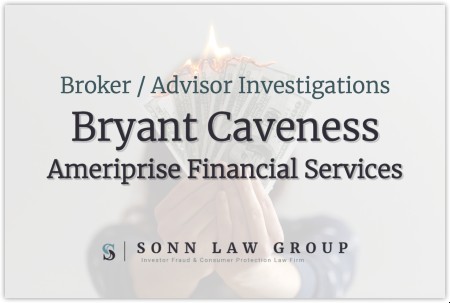 Bryant Caveness (CRD#: 4033740) was most recently employed as a broker with Ameriprise Financial Services from 2009 until 2020. Previously Caveness was employed with Ameriprise Advisor Services from 2003 until 2009. 
Caveness has four disclosures on his BrokerCheck report. 
July 2020 Regulatory Judgment 
Initiated By:

FINRA

Allegations:

"Without admitting or denying the findings, Caveness consented to the sanction and to the entry of findings that he refused to provide information and documents requested by FINRA in connection with its investigation into his potential receipt of checks from senior customers. The findings stated that although Caveness initially cooperated with FINRA's investigation, he ceased doing so."

Resolution:

Acceptance, Waiver & Consent (AWC)

Sanctions:

Bar

Registration Capacities Affected:

All Capacities

Duration:

Indefinite

Start Date:

7/22/20
---
June 2020 Employment Separation After Allegations
Firm Name:

Ameriprise Financial

Termination Type:

Discharged

Allegations:

"The registered representative was terminated for company policy violations related to personal trade, ethics, and solicitation of exchange-traded products."
---
July 2010 Customer Dispute
Status:

Settled

Allegations:

"The client verbally alleged discretionary trading of unsuitable investments occurred within his portfolio."

Damage Amount Requested:

$170,000.00

Settlement Amount:

$85,000.00
---
Contact Us Today
The Sonn Law Group is currently investigating allegations that Bryant Caveness committed misconduct. We represent investors in claims against negligent brokers and brokerage firms. If you or your loved one experienced investment losses, we are here to help. For a free consultation, please call us now at 866-827-3202 or complete our contact form.