Harkless allegedly used a customer's funds for his own personal expenses.
The Sonn Law Group is investigating allegations that Albert Harkless III converted client funds. If you or a family member has suffered losses investing, we want to discuss your case. Please contact us today for a free review of your case.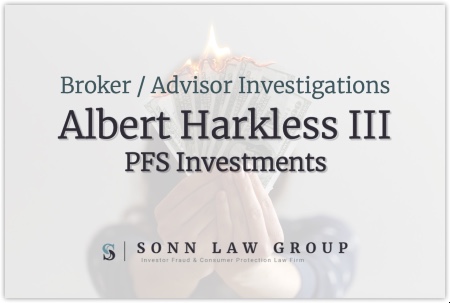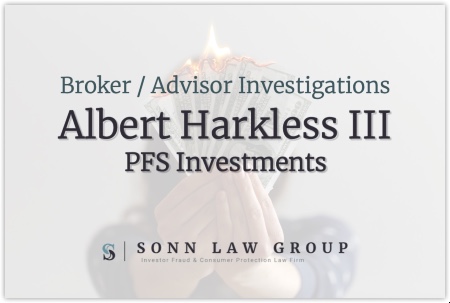 Albert Harkless III (CRD#: 2782039) was registered with PFS Investments from 2001 until 2018. On April 20, 2020, Harkless consented to the sanction of a bar from association with any FINRA affiliated firm.
He also consented to the entry of findings that he converted approximately $3,120 from a customer of his member firm by failing to purchase the securities for which the funds were provided to him and instead using it for personal use without the customer's knowledge or consent. 
FINRA's findings stated that Harkless solicited a customer to invest $6,100 to purchase shares in a company's initial public offering. The customer provided the funds to Harkless to make the investment. However, Harkless purchased only a portion of the shares agreed to in the company in the aftermarket for $2,980 and converted the remaining $3,120.
The findings also stated that Harkless made misrepresentations to the customer by falsely stating that the company's shares were available to purchase only to affiliated employees of the company, that there was a five-year sale restriction, and that the shares could not be transferred back to her because she was not an affiliated employee of the company.
Harkless has two other disclosures on his BrokerCheck report.
---
July 2019 Regulatory Judgment
Initiated By:

Maryland

Allegations:

"

In March 2010, respondent entered into an agreement with an investor in Maryland to purchase 406 shares of Primerica, Inc. at its initial public offering. The investor gave respondent $6,100 for the purchase. Respondent did not purchase the shares. Respondent kept the funds for personal use.

"

Resolution:

Order

Sanctions:

Bar

Registration Capacities:

All Capacities

Duration:

Permanent

Start Date:

8/7/2019

Sanctions:

Cease and Desist

Sanctions:

Monetary Penalty other than Fines

Sanctions:

$15,000 fine.
---
Employment Separation After Allegations
Firm Name:

PFS Investments, Inc.

Termination Type:

Voluntary Resignation

Allegations:

"It was alleged that a client wrote a personal check to the representative so that the representative would purchase stocks for the client. The representative stated he does not have the stocks to deliver.
---
Contact Us Today
The Sonn Law Group is currently investigating allegations that Albert Harkless converted client funds. We represent investors in claims against negligent brokers and brokerage firms. If you or your loved one experienced investment losses, we are here to help. For a free consultation, please call us now at 866-827-3202 or complete our contact form.