GPB Capital is embroiled in legal turmoil amid allegations of operating a Ponzi scheme.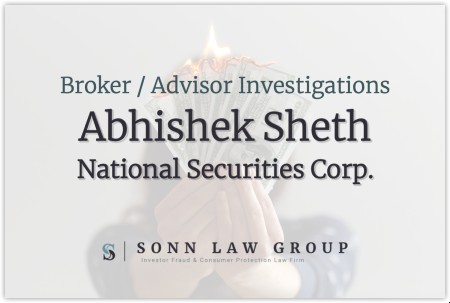 Abhishek Sheth (CRD: 4656005) is registered as a broker and investment adviser with National Securities Corporation in New York, New York, where he has been employed as a broker since January 2004.
Goodman & Nekvasil reported on their website that they have information alleging that Sheth may have recommended or sold investments in GPB Capital. 
In February 2021, GPB Capital and three of its executives were charged with operating a Ponzi-like scheme that raised over $1.7 billion from investors.
Former clients of brokers who recommended investments in GPB Capital have recovered damages based on theories of negligence, breach of fiduciary duty, negligent supervision, breach of contract, and violation of state securities laws. One former customer was awarded $515,000 by a FINRA arbitration panel for losses suffered in connection with GPB investments.
Sheth has no disclosures on his BrokerCheck report.
Contact Us Today
The Sonn Law Group is currently investigating allegations surrounding Abhishek Sheth. We represent investors in claims against negligent brokers and brokerage firms. If you or your loved one experienced investment losses, we are here to help. For a free consultation, please call us now at 866-827-3202 or complete our contact form.