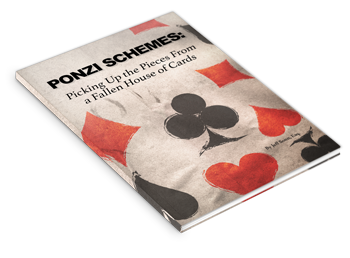 Ponzi schemes are a type of fraud involving the payment of dividends to investors from the money put in by subsequent investors. The money is usually not invested at all, but is often used by the person who started the scheme for personal expenditures. Perhaps the best known Ponzi scheme in recent history was run by Bernie Madoff.
The lure of Ponzi schemes is typically the promise of unusually high or regular returns. By the time most have been discovered, the investors' money has already been spent, and getting it back can be extremely difficult. If you have lost money in a Ponzi scheme or fear that you may have been drawn into one, you should seek the advice of a Ponzi scheme lawyer immediately.
Fighting for the Rights of Ponzi Scheme Victims
If your broker sold you a bond or promissory note that turned out to be part of a Ponzi scheme, the broker and the investment firm can be held liable for your losses.
The securities sold in a Ponzi scheme are rarely approved by the firm, so brokers sell them without the firm's knowledge. This is referred to as selling away, and is a violation of FINRA rules.
The firm can also be held accountable for negligent supervision of investor accounts and their brokers.
Experienced Legal Guidance from the Ponzi Scheme Lawyers at Sonn Law
At Sonn Law Group, we have experience with these types of cases. Our Florida Ponzi scheme lawyers have represented clients across the country and internationally. We have a complete understanding of investment fraud and due diligence law, and we know the best approach to seeking a full recovery of your financial losses.
Call for a Free Consultation
Contact our office today to discuss your Ponzi scheme case. You can reach us by phone at 844-689-5754 or via e-mail. We take every case on a contingency basis, which means we don't collect a fee unless we make a financial recovery for you.*
Under Florida Bar rules, we are not able to discuss our past results on this website. If you would like to learn more about our previous cases, please contact us for additional information.
To learn even more about Ponzi schemes, check out the Sonn Law Group Ponzi scheme FAQ.
Se Habla Español • Anachnu Medabreem Evreet • Nous Parlons Français
*Client will be responsible for costs and expenses.