The Sonn Law Group is Investigating Claims for Investors Who Suffered Losses With a Yield Enhancement Strategy (YES)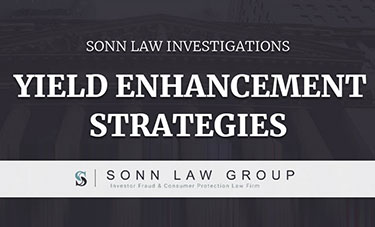 A yield enhancement strategy (YES) is a complex investment strategy that has been offered to investors by representatives at a number of major brokerage firms, including:
UBS Financial Services;
Credit Suisse;
Morgan Stanley; and
Merrill Lynch.
While yield enhancement strategies, including the UBS YES strategy and the iron condor strategy, are often touted as being a low-risk way for investors to generate additional returns, the reality is far more complicated. YES strategies are risky and may expose investors to significant losses.
Did your broker recommend the Yield Enhacement Strategy? (YES)
This risky strategy is unsuitable for most investors. If your broker/advisor recommended this investment strategy we may be able to help you recover your losses. Call us now at 844-689-5754 or complete the form below.
Yield Enhancement Strategies: Understanding the Basics
The term 'yield enhancement strategy' is actually somewhat misleading. Income is not technically being generated through this type of trading strategy. Instead, YES strategies require investors to purchase a number of related stock options.
When the strategy works, the investor will make a small 'premium' — meaning they will be compensated for the risk that they took in obtaining these options.
When the strategy fails, the investor will suffer sharp losses — often these losses are a multiple of the potential gains. In fact, by their very structure, yield enhancement strategies are designed to produce small gains most of the time and large losses some of the time.
YES Strategies Rely on a Narrow Market Range
Yield enhancement strategies are inherently complex. They involve investing in overlapping stock options — including both puts and calls. In other words, with a YES strategy an investor is taking both long and short positions in the same security over the same period.
The selected short price and the selected long price will produce a "range". As long as the underlying stock/security stays within that range, the investor will generate a relatively modest premium (return). However, should the stock/security close outside of that range, which can happen, then the investor will suffer considerable losses. Put another way, this type of strategy is simply a bet on low volatility.
The bottom line: Yield enhancement strategies generate small gains in stable market conditions. In volatile market conditions, these strategies can expose investors to heavy losses.
Yield Enhancement Strategies Fail During Periods of High Volatility
Yield enhancement strategies fail during periods of high market volatility. As was described, the YES strategy only produces a small profit for investors when the underlying security remains within a pre-specified range. It will cause much larger investment losses when it breaks out of that range. Of course, during volatile market conditions, securities prices are far more likely to fall outside the limits of the range.
This is not merely theoretical: YES strategies failed in late 2018. During that time period, market volatility crushed many unsuspecting investors who were sold yield enhancement strategies by their brokerage firms. For reference, not only was December of 2018 the worst December for the Dow Jones Industrial average since the Great Depression, but the month also produced the single largest one day point gain in the 120+ year history of the index.
These Strategies are Unsuitable for Many Investors
Unfortunately, YES strategies are often marketed to investors as a safe, conservative, and reliable way to generate some additional income. Too many brokers and brokerage firms simply fail to disclose the true extent of the risks associated with this type of complex trading strategy. In volatile market conditions — that being the time when many investors desire safety and protection— yield enhancement strategies fail. They can cause large, often unexpected, investment losses. As such, YES strategies are unsuitable for most investors.
Get Help From Our Investment Fraud Attorney Today
At Sonn Law Group, our securities fraud lawyers are currently investigating claims involving the yield enhancement strategy or YES strategy. We hold negligent brokers and broker-dealers accountable. To get a free, fully confidential initial legal consultation, please contact us today. We serve investors nationwide.
---
Sonn Law Group has a great deal of experience in representing investors who have sustained losses due to the negligence or misconduct of their broker and/or brokerage firm, including cases involving complex options strategies. We will aggressively pursue claims to recover your Collateral Enhancement Strategy or other investment losses. If you are looking for an investment fraud attorney to review your rights and options, the lawyers at Sonn Law Group represent individual and institutional investors who have lost money as a result of unsuitable investment advice, negligent advice, investment fraud or stockbroker misconduct. Our attorneys have helped to recover more than $250 million in assets lost to investment fraud, securities fraud, Ponzi schemes, and stockbroker misconduct.