Investors should seek damages after Washington Prime Group, Inc. brokers recommended investments that were unsuitable.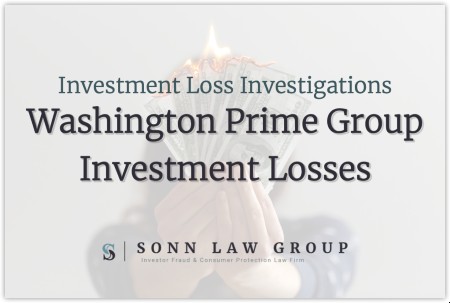 Washington Prime Group, Inc., the owner of a nationwide group of shopping malls attempting to bounce back from the pandemic, approached investors to gauge early interest in providing a potential $150 million debtor-in-possession loan, as it prepares for a Chapter 11 bankruptcy filing, according to Bloomberg. 
After the report of the potential financing released, Washington Prime's stock price sunk to $2.72. Washington Prime is purportedly under forbearance with its creditors after missing a February 15th interest payment, however remains in talks around a financial restructuring plan. 
If your broker recommended you purchase investments in Washington Prime Group, you may be entitled to recover losses from the brokerage firm that sold you the investments. 
Contact Sonn Law to Discuss Recovery Options
The Sonn Law Group is currently investigating allegations that brokers recommended investments in Washington Prime Group. We represent investors in claims against negligent brokers and brokerage firms. If you or your loved one experienced investment losses, we are here to help. For a free consultation, please call us now at 866-827-3202 or complete our contact form.