Sonn Law Group has a great deal of experience in representing investors who have sustained losses due to the negligence or misconduct of their broker and/or brokerage firm, including cases involving complex options strategies. We will aggressively pursue claims to recover your Yield Enhancement Strategy or other investment losses.
If you are looking for an investment fraud attorney to review your rights and options, the investment fraud lawyers at Sonn Law Group represent individual and institutional investors who have lost money as a result of unsuitable investment advice, negligent advice, investment fraud or stockbroker misconduct. Our attorneys have helped to recover more than $250 million in assets lost to investment fraud, securities fraud, Ponzi schemes, and stockbroker misconduct. To set up a free, no obligation review of your case, please call us now at 305.912.3000 or contact us online.
Did your broker recommend UBS Yield Enhancement Strategy?
This risky product is unsuitable for most investors. If your broker/advisor recommended this investment we may be able to help you recover your losses. Call us now at 305-912-3000 or complete the form below.
If you lost money investing with a yield enhancement strategy (YES) offered by UBS Financial Services, you may have a claim.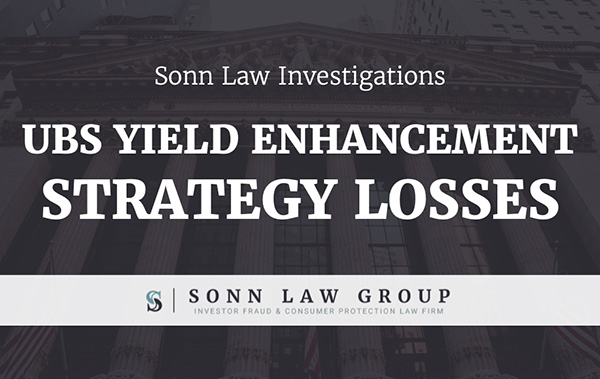 A yield enhancement strategy is a form of investing where a broker sells call or put options to enhance returns in relatively stable markets. Investments using a YES options strategy are often advertised as being safe. In reality, they are often high-risk because they rely on marketplace stability, which is impossible to gauge over the long term.
UBS Financial is alleged to have offered these volatile YES options strategies in a variety of forms and products, including in managed accounts, structured notes, and funds. In particular, UBS Financial is said to have utilized an investment strategy called the "iron condor."
In an iron condor, the trader sells a call spread and a put spread with the same expiration day on the same underlying instrument. By simultaneously selling and buying calls and puts, an iron condor strategy can generate income as long as the price stays within the breakeven points created by the spreads.
Unfortunately, sudden price swings can push the price outside of the breakeven points, resulting in losses. A recent example of a stock market swing was in February 2018 when the DOW plunged 1,175 points, the worst decline in the exchange's history.
Under FINRA Rules, brokerage firms are responsible for supervising their broker's activity and may be liable for investment losses caused by their brokers. Sonn Law Group is interested in speaking with individuals who invested with UBS Financial and may have a claim.
Recent News & Investigations Involving UBS