Many UBS YES Strategy Investors Sustained Major Losses in the Volatile Fourth Quarter of 2018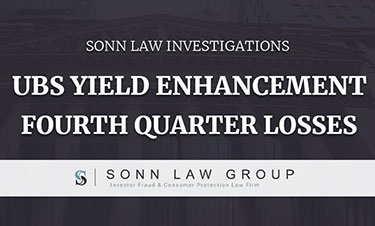 Most often marketed to high net worth investors, the YES strategy was touted as being "safe" and "low-risk". Unfortunately, the reality appears to be far different.
According to a report from SeekingAlpha, the UBS Yield Enhancement Strategy or 'YES strategy' was hit hard by the volatile fourth quarter of 2018.
Now, some affected investors are filing UBS YES strategy lawsuits to hold negligent financial advisors and brokerage firms accountable.
Sonn Law Group has a great deal of experience in representing investors who have sustained losses due to the negligence or misconduct of their broker and/or brokerage firm, including cases involving complex options strategies. We will aggressively pursue claims to recover your Yield Enhancement Strategy or other investment losses.
If you are looking for an investment fraud attorney to review your rights and options, the investment fraud lawyers at Sonn Law Group represent individual and institutional investors who have lost money as a result of unsuitable investment advice, negligent advice, investment fraud or stockbroker misconduct. Our attorneys have helped to recover more than $250 million in assets lost to investment fraud, securities fraud, Ponzi schemes, and stockbroker misconduct. To set up a free, no obligation review of your case, please call us now at 305.912.3000 or contact us online.
Did your broker recommend UBS Yield Enhancement Strategy?
This risky product is unsuitable for most investors. If your broker/advisor recommended this investment we may be able to help you recover your losses. Call us now at 305-912-3000 or complete the form below.
Market Volatility Resulted in Substantial YES Investment Losses
Many UBS investors were told that the YES strategy was low-risk and that the potential for large losses was limited. However, the fourth quarter of 2018, which was one of the most volatile periods for the market in many decades, proved those promises to be untrue. The Yield Enhancement Strategy performed poorly over that period.
Investors deserve honest, open, and reliable guidance from their financial representative. When brokers or brokerage firms recommend unsuitable investments or fail to adequately disclosure risks, they can potentially be held legally liable for any resulting financial losses. UBS YES strategy investors may have a valid legal claim.
The Sonn Law Group is currently investigating the UBS Yield Enhancement Strategy that was pitched to high net worth investors by financial advisors. We represent investors in claims against brokers and broker-dealers. For a free consultation, please call us today at 305.912.3000 or complete our contact form.