Two officers of The Republic Group were also charged by the SEC.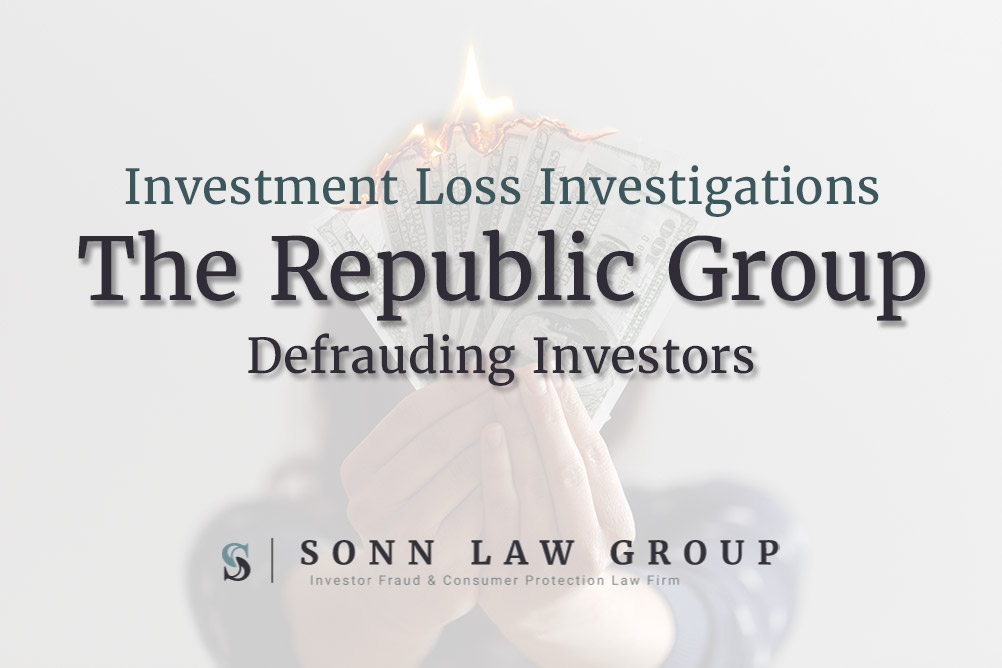 The SEC charged Florida-based company, The Republic Group, Inc., with defrauding investors through unregistered securities offerings. The SEC's allegations indicate that The Republic Group, through its president, Gary S. Wykle, and executive vice president and salesperson, Alejandro Cortes, raised over $9.4 million from approximately 150 investors located in Florida and Puerto Rico through the sale of promissory notes. Wykle and Cortes reportedly represented to investors that the purchase funds for the notes would be used to make short-term, high interest loans to travel industry businesses in the Dominican Republic.
Despite these assertions to investors, the funds were never used to make loans to companies in the Dominican Republic. Instead, Wykle allegedly misappropriated more than $1.2 million for personal use and used other investor funds to pay returns to older investors in a Ponzi-like fashion. Additionally, Wykle allegedly paid $1.28 million out of the investor funds to Cortes for sales commissions. The SEC also alleged that Cortes sold the securities without registering as a broker and that the pair sold the promissory notes without registering their offering of securities.
The SEC's complaint was filed in the U.S. District Court for the Southern District of Florida, charging Wykle and Cortes with violating the securities registration provisions of Sections 5(a) and 5(c) of the Securities Act of 1933 and the broker registration provisions of Section 15(a) of the Securities Exchange Act of 1934. The complaint further alleges that Wykle violated the antifraud provisions of Section 17(a) of the Securities Act and Section 10(b) of the Securities Exchange Act and Rule 10b-5.
Wykle and Cortes consented to the entry of a judgment that imposes permanent injunctions against them, orders Wykle to pay disgorgement of $948,295, prejudgment interest of $136,979, and a civil penalty of $192,768, and orders Cortes to pay disgorgement of $749,280, prejudgment interest of $111,805, and a civil penalty of $75,000.
The Sonn Law Group is currently investigating allegations surrounding The Republic Group, Inc. We represent investors in claims against negligent brokers and brokerage firms. If you or your loved one experienced investment losses, we are here to help. For a free consultation, please call us now at 866-827-3202 or complete our contact form.