T2 Biosystems investors face the risk of significant losses.
The Sonn Law Group is investigating allegations that T2 Biosystems committed misconduct. If you or a family member has suffered losses investing, we want to discuss your case. Please contact us today for a free review of your case.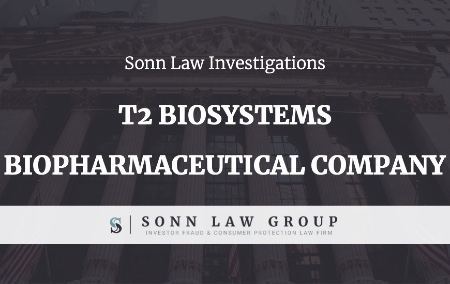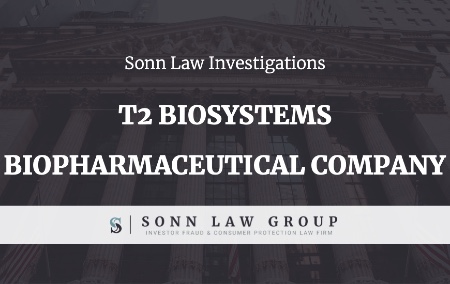 T2 Biosystems (Nasdaq: TTOO) is a biopharmaceutical company operating in the United States that reportedly offers diagnostic instruments for the detection of infectious diseases in blood, plasma, serum, sputum, and urine. The company's share price has declined by 64% in the last year.
The problem with biopharmaceutical stocks like this one is that they are typically risky for investors. The research and development process for pharma companies often involves costly and lengthy clinical testing trials that yield specific data. If the expected data or endpoints are not met, the stock can drop drastically. Without a strong understanding of the company and its basic operations, investors may be looking at serious losses.
The Sonn Law Group is investigating the possibility that FINRA registered brokerage firms may have improperly recommended high-risk biopharma stocks, like T2 Biosystems, to investors. If you have concerns regarding investment losses in T2 Biosystems, please contact us.
Contact Us Today
The Sonn Law Group is currently investigating allegations that brokers recommended unsuitable investments. We represent investors in claims against negligent brokers and brokerage firms. If you or your loved one experienced investment losses, we are here to help. For a free consultation, please call us now at 866-827-3202 or complete our contact form.