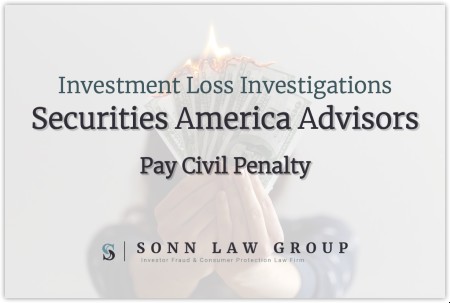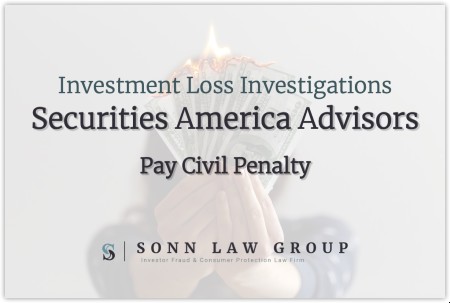 The SEC also entered a cease and desist order against Securities America Advisors.
Securities America Advisors (SAA) is a Nebraska corporation operating as an investment advisor that is registered with the SEC. SAA reportedly establishes investment advisory relationships with clients, for the purpose of providing financial advisory services.
Without admitting or denying the SEC's findings, SAA submitted to a settlement offer and consented to the entry of an Order instituting administrative and cease and desist proceedings.
The SEC alleged that SAA failed to implement policies and procedures designed to prevent the misappropriation of client funds from their advisory accounts. Additionally, the SEC alleged that  between November 2014 and March 2018, the SAA failed to implement policies and procedures designed to review client disbursement requests for possible misappropriation. As a result, the owner of an independent state-registered investment advisor whose clients participated in certain SAA advisory programs, Hector May, misappropriated approximately $8 million from the SAA advisory accounts of at least fifteen clients. 
May reportedly encouraged some of his advisory clients who had opened advisory accounts with SAA and invested assets in the SAA advisory program to buy bonds away from these accounts. May falsely claimed that he could obtain the bonds at a better price and avoid additional fees if the clients did so. May told the clients to transfer the funds out of their SAA advisory accounts and into their personal bank accounts.
Once the fund arrived, May told the clients to transfer the funds to a "ECP Custodial Account," which he then used to pay for personal expenses rather than investing in the bonds. To hide his misconduct, May reportedly fabricated and distributed advisory account statements that reflected their SAA advisory program investment, including fake bonds, returns, and valuations.
This isn't May's first encounter with the SEC. In December 2018, May and his daughter, Vania Bell, were accused of conducting a multimillion-dollar Ponzi scheme that defrauded community members, family members, and close family friends of the pair. In a parallel criminal action, the U.S. Attorney's Office of the Southern District of New York filed criminal charges against May, who pleaded guilty. He was sentenced to 13 years in prison for participating in a conspiracy to defraud investment advisory clients out of over $11 million and ordered to pay $8 million in restitution fees.
By failing to adopt and implement written compliance policies and procedures reasonably designed to prevent violations by its investment adviser and its supervised persons, SAA violated Section 206(4) and Rule 206(4)-7 of the Advisers Act.
The Sonn Law Group is currently investigating allegations surrounding Securities America Advisors. We represent investors in claims against negligent brokers and brokerage firms. If you or your loved one experienced investment losses, please call us now at 866-827-3202 or complete our contact form.