Ruiz is accused of targeting elderly investors in his fraudulent scheme.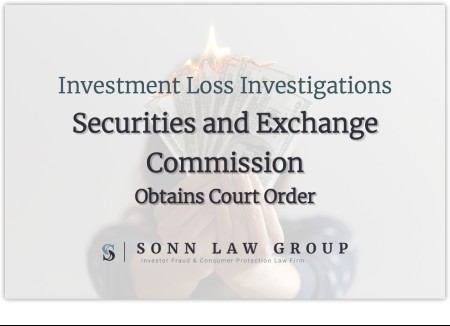 Martin Ruiz, a New York investment adviser, is accused of fraud in connection with his fraudulent scheme to defraud investors through his advisory firm, Carter Bain Wealth Management (CBWM). Ruiz is accused of misappropriating over $8 million from his elderly clients.
On August 13, 2021, the SEC filed an emergency action against Ruiz, CBWM and RAM Fund and obtained an emergency restraining order to stop an allegedly ongoing fraudulent securities offering. Ruiz allegedly induced several clients to invest over $10 million in an investment fund called RAM Fund by purchasing limited partnership interests. Ruiz failed to disclose to the clients that he controlled RAM Fund and that he planned to use the investor funds to support his lavish lifestyle.
Rather than investing his clients' funds into legitimate investment projects and real estate, Ruiz misappropriated the clients' funds for personal use, including the purchase of a home, rental payments on apartment properties, and payments on credit card bills. 
Ruiz is charged with violating Section 17(a)(1) and (3) of the Securities Act of 1933 and Section 10(b) of the Securities Exchange Act of 1934 and Rule 10b-5 thereunder. The complaint also charges Ruiz and RAM with violating Section 17(a)(2) of the Securities Act. The complaint further charges Ruiz and Carter Bain with violating Sections 206(1) and 206(2) of the Investment Advisers Act of 1940.
The Sonn Law Group is currently investigating allegations surrounding Martin Ruiz. We represent investors in claims against negligent brokers and brokerage firms. If you or your loved one experienced investment losses, we are here to help. For a free consultation, please call us now at 866-827-3202 or complete our contact form.