The SEC announced that it has filed an action against five individuals alleging the promotion of a global unregistered digital asset securities offering that purportedly raised over $2 billion from retail investors.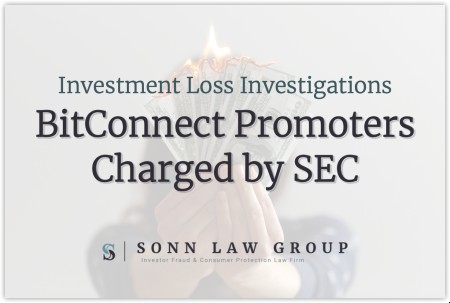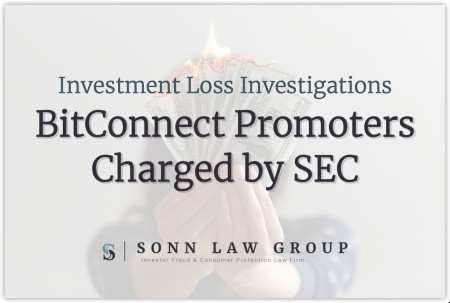 The SEC's complaint was filed in the United States District Court for the Southern District of New York. The complaint alleges that from approximately January 2017 – January 2018, BitConnect used a network of promoters, including Trevon Brown (aka Trevon James), Craig Grant, Ryan Maasen, and Michael Noble (aka Michael Crypto) to market and sell securities in BitConnect's "lending program."
The complaint claims that the promoters offered and sold the securities without registering the securities offering with the SEC, and without being registered as broker-dealers with the SEC, both of which are required by federal securities laws.
The promoters are accused of advertising the merits of investing in BitConnect's lending program to prospective investors by creating testimonial-style videos and publishing them on YouTube.
The promoters were allegedly paid commissions based on their success in soliciting investor funds. Joshua Jeppesen is accused of serving as a liaison between BitConnect and the promoters and representing BitConnect at conferences and promotional events.
Lara Shalov Mehraban, Associate Regional Director of the SEC's New York Office, stated, "[w]e allege that these defendants unlawfully sold unregistered digital asset securities by actively promoting the BitConnect lending program to retail investors. We will seek to hold accountable those who illegally profit by capitalizing on the public's interest in digital assets."
The promoters were charged with violating registration provisions of federal securities laws and Jeppesen was charged with aiding and abetting BitConnect's unregistered offer and sale of securities.
Contact Sonn Law Today
The Sonn Law Group is currently investigating allegations surrounding BitConnect. We represent investors in claims against negligent brokers and brokerage firms. If you or your loved one experienced investment losses, we are here to help. For a free consultation, please call us now at 866-827-3202 or complete our contact form.