FINRA allegations state that two former brokers of Royal Alliance stole clients' funds.
The Sonn Law Group is investigating allegations that Royal Alliance Associates failed to properly supervise brokers. If you or a family member has suffered losses investing, we want to discuss your case. Please contact us today for a free review of your case.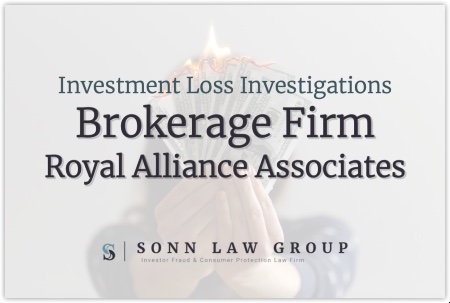 Royal Alliance Associates agreed to pay $400,000 based on FINRA findings stating that two former brokers separately stole in excess of $3.8 million from the accounts of four customers. The two brokers are now in prison.
According to FINRA's findings, between 2009 and 2017, a New Jersey broker wire-transferred $1.4 million in more than 60 transactions from "disabled widow" in New Hampshire to the bank account of a limited liability company he created, and to a law firm.
In spite of the company's address being the same as the broker's office, firm prohibitions against third-party wire transfers, and red flags about the customer's name being used on the broker's outside account, Royal Alliance's cashiering group failed to stop the transfers.
The broker also allegedly forged requests for unauthorized third-party checks from the widow and another customer's account without the cashiering group verifying the address the checks were sent to.
The findings also alleged that a Massachusetts broker stole more than $2.3 million from two customers between June 2013 and June 2017 by forging 65 third-party wire transfers requests from their accounts to the bank account that the broker controlled.
When one cashiering group employee questioned a discrepancy in signatures, the broker claimed the customer "always signed her name differently," without further investigation. The broker also allegedly falsified papers when questions were raised about the account receiving the checks, which had the broker's home address.
Both brokers allegedly pled guilty to criminal charges and are currently barred from the securities industry. 
In December 2017, Royal Alliance terminated its relationship with Gary Basralian, a Maplewood, NJ, broker who is serving 70 months in prison after pleading guilty to fraud. In November 2017, it discharged Kimberly Pitts, a Palmer, Mass. broker who was sentenced to 87 months in prison and three years of supervised release.
Contact Us Today
The Sonn Law Group is currently investigating allegations that Royal Alliance Associates failed to properly supervise brokers. We represent investors in claims against negligent brokers and brokerage firms. If you or your loved one experienced investment losses, we are here to help. For a free consultation, please call us now at 866-827-3202 or complete our contact form.