The technical glitch occurred on Monday, March 2nd as the market attempted to rebound from the worst week for stocks since the financial crisis due to investors' fears about coronavirus.
The Sonn Law Group is investigating investor claims relating to a software glitch on Monday, March 2nd that prevented users of the Robinhood app from buying or selling stocks and exercising options. If you are a Robinhood user and wanted to close out positions or had options trades that were expiring, you may be able to bring a FINRA arbitration claim. Please contact us today using the form below for a free review of your case.
Losses due to the Robinhood App outages?
Submit the form below to discuss your options with a Sonn Law investment loss attorney.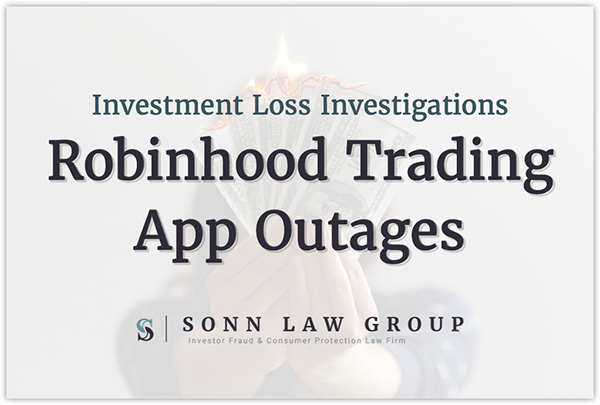 Robinhood, the trading app created by a Silicon Valley start-up, experienced an outage on Monday, March 2, 2020. The issues were not remedied by the end of the trading day. Because of the technical difficulties, Robinhood users missed out on the biggest one-day point gain in the Dow Jones Industrial Average ever recorded. 
The outage occurred during the market's rebound from the worst week for stocks since the 2008 financial crisis, caused by investor panic about coronavirus. The Dow, S&P 500, and Nasdaq Composite all fell more than 10% last week, their biggest weekly declines since October 2018. At the close of trading Monday, the Dow climbed 5.1%, the S&P 500 climbed 4.6%, and the Nasdaq Composite climbed 4.5%. 
The company sent an initial message to clients Monday stating, "We are experiencing a system-wide outage. We are working to resolve this issue as soon as possible," the company said in a message to clients Monday. With an hour left in the trading day, Robinhood updated clients with a statement reading, "the issue has been identified and a fix is being implemented."
Robinhood gained popularity with young investors by offering free stock trading in 2013. As of December, the company said that 10 million users were on the platform. During the outage, users reported a Robinhood message on their screen that said, "your portfolio information is not available right now. Please check back later." 
A factor that could have contributed to the technical issues could be the volume of trades. Last week, the SPDR S&P 500 ETF Trust traded more than 200 million shares three times. On Friday, some ETF shares changed hands more than 385 million times. That is more than double the average 30-day trading volume for SPY, which is 97.3 million shares. 
The company's twitter account also addressed the outage, stating, "[o]ur system is experiencing downtime issues that are affecting all functionalities on our platform. We are aware of this issue and are working to have all systems up and running as soon as we can. We're so sorry this is happening!"
Many frustrated customers tweeted out their complaints. One twitter user stating, "[c]an't sell my positions . . . I'm clearing all of my money out today and closing the account," Monday at 8:32 a.m.
Another twitter user, responding to Robinhood's tweet, stated that he had been trying to "get some shares" for the last two hours but was unable to get his money out. An additional twitter user responded to this tweet and stated, "[a]ll my money is frozen in market short ETFs and I'm literally bleeding out money by the minute as the market rebounds. Absolutely ridiculous." 
By Monday afternoon, a twitter account named "Robinhood Class Action" was created and had gained in excess of 1,500 followers. The account bio states that the account is "building a case against Robinhood for their negligence and late open on March 2." With 10 million users affected, the possibility of some clients filing a class action against Robinhood is possible. 
The Sonn Law Group is currently investigating investor claims relating to a software glitch that has prevented users of Robinhood from buying or selling stocks. If you are a Robinhood user and wanted to close out positions today or had options trades that were expiring today, we want to discuss your case. For a free consultation, please call us now at 866-827-3202 or complete our contact form.