NOTICE FOR RETIRED INVESTORS: The Sonn Law Group has heard from retirees who have suffered significant losses in the wake of the recent stock market crash. These losses may be recoverable if they were caused by unsuitable investments (or bad advice) by a financial advisor or broker. Are you a retiree who has suffered major losses? We want to hear from you. Call us anytime at 844-689-5754 or contact us online using our secure web form.
Can I Sue my Financial Advisor or Stockbroker for Losses in the Recent Market Crash Linked to the Corona Virus and the Oil Price War?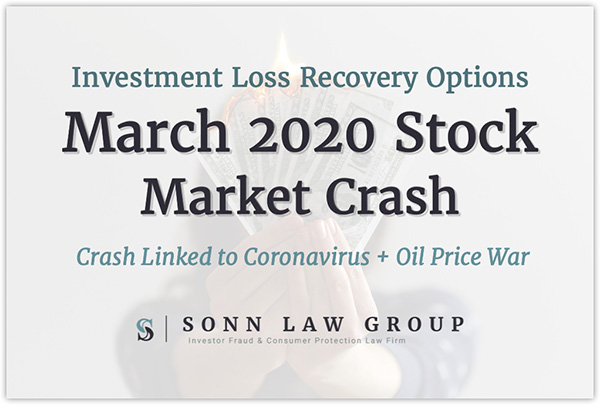 The answer is yes. Financial Advisors have a duty to act in the best interests of their customer. Also, it can be argued that financial advisors, stockbrokers, financial planners, financial consultants, Vice-Presidents, Managing Directors (or whatever other confusing name they use to promote themselves) have a "fiduciary duty" to act in the customer's best interest, without conflicts of interest.
In the case of the recent stock market crash, fears over the coronavirus have been public knowledge for several months now. It is reasonable to expect your financial advisor to have taken measures to protect your portfolio, and especially concentrated or large investments against the market losses we are seeing now. Failure to have done so may well represent negligence for which the advisor or their brokerage firm can be held liable.
Sometimes, customers are "concentrated" in one or too few investments (like a single stock or just a few investments), or in just one industry or sector (like too much oil related stocks, too much in tech), or stuck in one or more illiquid investments like limited partnerships, private placements, promissory notes, indentures, private bonds, that puts them at great risk for outsized losses. Sometimes customers are the victims of Ponzi schemes and don't even know it until its too late.
That is why you need a law firm, like ours, to review the portfolio and determine if the financial advisor acted negligently. We often work with experts in financial planning who have decades of investment experience to review portfolios for losses caused by negligence, poor financial planning, or outright fraud.
Wondering whether you can recover stock market crash losses?
Explain your situation and we'll tell you for sure
There are rules set by the Financial Regulatory Authority (FINRA) and standards of care set by the Securities and Exchange Commission (SEC) as well as other federal or state laws that financial advisors must follow. When advisors don't follow the rules, or industry standards, they can be liable to you for money damages.
We do not charge to review your portfolio for damages or to investigate your case. Our firm has substantial experience in representing investors in investment loss cases, securities fraud, negligence, and breach of fiduciary duty cases.
We have handled cases against every major brokerage firm on Wall Street, and many regional and small brokerage firms and independent financial advisors.
---
Sonn Law Group represents individual and institutional customers investors nationwide in securities litigation and arbitration on a contingency fee basis. No Recovery, No Fee. Jeff Sonn, the Managing Principal of the Sonn Law Group, is a trial lawyer who has handled thousands of securities cases over the last 31 years involving many investment products, strategies and securities. Adolfo Anzola, is a former Deputy Attorney General in the New Jersey Division of Securities. And Randall Place is a former FINRA investigator before he became an attorney. We can be reached at 844-689-5754 or by email at jsonn@sonnlaw.com.