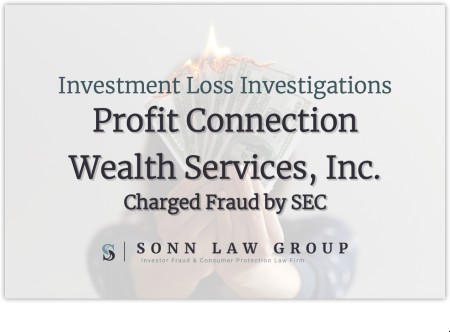 On July 8, 2021, the SEC filed an emergency action and obtained a temporary restraining order and asset freeze to halt an alleged offering fraud by Las Vegas-based Profit Connection Wealth Services, Inc., and individuals Joy Kovar and her son, Brent Kovar. The offering had purportedly raised over $12 million from over 277 retail investors.
According to the complaint, since at least May 2018 the defendants have raised investor funds through Profit Connect while assuring investors that their money would be invested in securities trading and cryptocurrencies based on recommendations made by an "artificial intelligence supercomputer." As alleged, Profit Connect claims that its supercomputer consistently generates enormous returns, which in turn allows Profit Connect to guarantee investors fixed returns of 20-30 percent per year with monthly compounding interest. 
According to the complaint, however, over 90 percent of Profit Connect's funds came from investors. The complaint further alleges that the defendants did not use funds received from investors to trade securities, buy cryptocurrencies, or do any of the things that Profit Connect promised its investors it would do with their money. Instead, the complaint alleges that the defendants transferred millions of dollars to Joy Kovar's personal bank account, paid millions of dollars to promoters, and made Ponzi-like payments to earlier investors. Profit Connect purportedly encourages investors to use money from retirement funds and home equity and targets investors looking to build educational funds for their families.
The SEC's complaint was filed in the U.S. District Court for the District of Nevada, charging the defendants with violating the antifraud provisions of Section 17(a) of the Securities Act of 1933 and Section 10(b) of the Securities Exchange Act of 1934 and Rule 10b-5 thereunder. In addition, the complaint charges J. Kovar as a control person under Section 20(a) of the Exchange Act for each of Profit Connect's violations under the Exchange Act. The complaint seeks permanent injunctions, disgorgement, prejudgment interest, and civil penalties.
The Sonn Law Group is currently investigating allegations surrounding Profit Connect Wealth Services, Joy Kovar, and Brent Kovar. We represent investors in claims against negligent brokers and brokerage firms. If you or your loved one experienced investment losses, we are here to help. For a free consultation, please call us now at 866-827-3202 or complete our contact form.