The SEC has accused Par Funding's Founders – Convicted felon Joseph LaForte his wife Lisa McElhone – of "lying and scheming" on their way to raising nearly half a billion dollars from an estimated 1,200 investors nationwide.
The Sonn Law Group wants to hear from folks who were advised to invest in Par Funding, which the SEC has accused of being a fraudulent scheme. From August 2012 until approximately December 2017, Par Funding issued promissory notes and offered them to the investing public directly and through a network of sales agents. If you or a family member has suffered losses investing in Par Funding, we want to hear from you. Please contact us today to discuss your options.
Learn Your Options for Recovering Investment Losses in Par Funding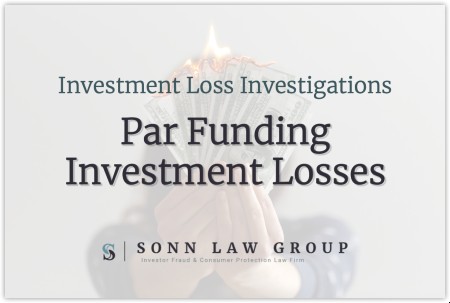 The SEC filed a complaint against Par Funding and its affiliates, as well as founders Joseph LaForte and Lisa McElhone, alleging that the company offered unregistered, fraudulent securities in order to raise almost half a billion dollars from approximately 1,200 across the United States.
The complaint stated that LaForte and McElhone are "in the business" of making opportunistic loans to small businesses, some of which charge more than 400% interest, through their company Par Funding.
The couple allegedly used unregistered sales agents to offer unregistered securities to investors in order to gain capital. In January 2018, Par Funding learned it was under investigation by the Pennsylvania Dept. of Banking and Securities for violating state securities laws regarding the use of unregistered sales agents. After the investigation commenced, Par Funding represented to the Pennsylvania Securities Regulators that it had terminated the agreements with its unregistered sales agents.
Despite this representation, Par Funding in fact just implemented a new process of creating "Agent Funds" in order to issue their own promissory notes, selling the notes to the investing public through unregistered securities offerings, and funneling investor funds to Par Funding. "Par funding compensates the Agent Funds by issuing Par Funding promissory notes to the Agent Funds offering higher rates of return than what the Agent Funds are obligated to pay investors under the Agent Funds' notes."
This scheme is operated through Par Funding and McElhone's company, Full Spectrum Processing, Inc. LaForte, Full Spectrum CFO Joseph Cole Barleta, and Par Funding investment director and partial owner Perry S. Abbonizio solicit investors to make investments in the securities.
Dean J. Vagnozzi, through his company ABetterFinancialPlan.com d/b/a A Better Financial Plan, recruits individuals to create the Agent Funds, offering them the opportunity to open a turnkey Agent Fund that issues and sells securities, complete with training, marketing materials, and an "Agent Guide," as well as a Private Placement Memorandum, corporate registration, and offering materials provided by Vagnozzi's attorney. Vagnozzi manages the Agent Funds through his company ABFP Management Company, LLC, and Abbonizio oversees and coordinates the Agent Funds.
Par Funding News and Allegations
Par Funding indicated in a February filing with the SEC that Par had raised more than $226 million through Vagnozzi and other sales agents. On May 30, 2020, Vagnozzi agreed to pay $490,000 to settle accusations by the Pennsylvania state securities agency that he was selling investments without a license. Vagnozzi indicated that he did not register as a broker because he "relied on representations by Par Funding they were not securities and he didn't need a license."
In addition to the securities charges, the SEC alleged that LaForte failed to disclose his criminal history to potential investors. The complaint alleges that Par Funding's website includes multiple articles regarding LaForte and his business successes and that LaForte describes himself as a "financial expert" in online videos. LaForte fails to disclose that he is a twice-convicted felon and was previously imprisoned and ordered to pay $14.1 million in restitution for money laundering and grand larceny.
To avoid discovery of his criminal history, LaForte operates under the nicknames "Joe Mack" and "Joe Macki." The complaint alleges that some investors have been solicited by hearing about the experience of Par Funding's management team without being told of LaForte's criminal history, despite knowledge that LaForte had been convicted of crimes involving dishonesty.
The SEC is seeking a temporary restraining order and preliminary injunction against the defendants named in the complaint enjoining them from committing further securities violations. The SEC is also seeking an asset freeze, an order requiring the defendants to preserve any records related to the lawsuit, and disgorgement of all ill-gotten gains.
In December 2018, New Jersey Bureau of Securities issued a Cease and Desist Order against Par Funding. According to the order, Par Funding's unregistered agents were receiving commissions of 5% to 25%, depending on the interest rate promised to investors. Par Funding claimed that it used sales agents such as Merchant to raise over $270 million from more than 1,200 investors over the past year.
Contact Sonn Law to Discuss Recovery Options
The Sonn Law Group is currently investigating allegations that Par Funding founders Joseph LaForte and Lisa McElhone committed fraud. We represent investors in claims against negligent brokers and brokerage firms. If you or your loved one experienced investment losses, we are here to help. For a free consultation, please call us now at 866-827-3202 or complete our contact form.