Energy funds suffered heavily in the market after the Coronavirus outbreak.
The Sonn Law Group is investigating allegations that brokers unsuitably recommended investments in energy funds. If you or a family member has suffered losses investing in the Ninepoint Energy Fund, we want to discuss your case. Please contact us today for a free review of your case.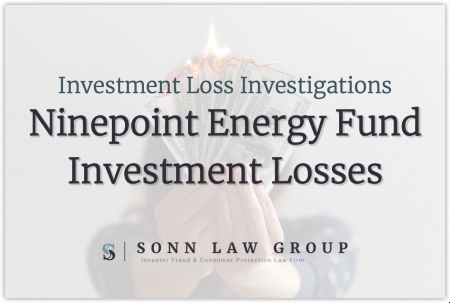 The Ninepoint Energy Fund fund purportedly seeks to achieve long-term capital growth. The Fund invests primarily in equity and equity-related securities of companies that are involved directly or indirectly in the exploration, development, production, and distribution of oil, gas, coal, or uranium and other related activities in the energy and resource sector.
Energy funds suffered significant losses last week as equity markets worldwide plummeted amid investor fears about Coronavirus and an oil price war between Saudi Arabia and Russia. As of March 29, 2020, Ninepoint Energy Fund had a -78.75% YTD return. 
The Sonn Law Group is investigating allegations that brokerage firms may have recommended high energy investments such as Ninepoint Energy Fund to its clients. If your financial advisor over-concentrated your portfolio, you may have a claim to recover losses. 
Financial advisors are required to make suitable investment recommendations, accounting for your age, income, net worth, investment experience, and investment objectives.  Diversification is the key to reducing risk. As such, over-concentrated exposure to any sector or investment but particularly volatile industries like oil and gas can be unsuitable for many investors.
Contact Us Today
If you suffered losses investing in Ninepoint Energy Fund, we are here to help. For a free consultation, please call us now at 866-827-3202 or complete our contact form.