BREAKING NEWS: On June 21, 2022 the New Jersey Bureau of Securities issued a cease and desist order to National Realty Investment Advisors. The Bureau is states that NRIA fraudulently sold over $600 million in securities to investors since 2018. The Bureau estimates that there are a total of 1,800 NRIA investors across the US. Read the full article here.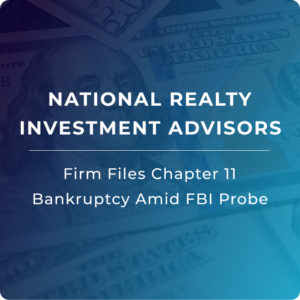 Sonn Law Group has heard from hundreds of concerned National Realty Investment Advisors investors following reports that the company has filed for bankruptcy as it faces investigations from the FBI and SEC.
If you have invested in National Realty Investment Advisors (NRIA) we encourage you to complete this short form to receive updates and information from our firm related to your best options for making a financial recovery. Our law firm is currently investigating the NRIA case to determine whether a lawsuit can be filed to recover investor losses.
Sonn Law Group is a consumer protection and class action law firm that specializes in helping defrauded investors recover their losses. For a free consultation with an attorney at our firm complete this form or call us at 844-689-5754.

NRIA Bankruptcy: Timeline of Significant Events
June 21, 2022
The New Jersey Bureau of Securities orders NRIA to cease operations and asserted that the company fraudulently sold over $600 million in securities.
Judge John K. Sherwood – United States Bankruptcy Judge for the District of New Jersey – approves a motion filed by National Realty Investment Advisors debtors' to allow private sales of eight condominiums and units which are estimated to be worth more than $20 million. The debtors agreed not to pay any broker or sale commissions and to escrow the proceeds pending further orders of the court.
June 8, 2022
New Jersey-based National Realty Investment Advisors files for Chapter 11 protection in federal court on June 8, 2022.
The filing was submitted on behalf of National Realty Investment Advisors by Brian Casey of the real estate financial advisory firm The Casey Group.
According to the affidavit filed in the United States Bankruptcy Court in the District of New Jersey there is roughly $600 million in claims against about $300 million of assets. Read the affidavit here.
April 29, 2022
NRIA CEO Rey Grabato resigns from the company.
September 29, 2021
The Philadelphia Inquirer reports that NRIA is under investigation by the FBI, the SEC, and financial regulators in Alabama, Illinois, and New Jersey.
March 5, 2021
NRIA portfolio manager Nick Salzano was arrested by the FBI after a long standoff with agents at his home in New Jersey.
Are you an investor in National Realty Investment Advisors?
Submit the form below to speak with our team about your options.