National Planning Corp. allegedly sold fraudulent promissory notes, non-traded REITs, and other unsuitable investments to an elderly investor.
The Sonn Law Group is investigating allegations that National Planning Corp. committed misconduct. If you or a family member has suffered losses investing, we want to discuss your case. Please contact us today for a free review of your case.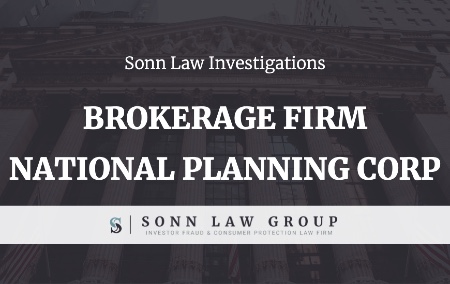 National Planning Corp. was ordered by a FINRA arbitration panel to pay $2.6 million to a retired elderly customer who bought fraudulent promissory notes, non-traded real estate investment trusts (REITs) and other unsuitable investments on the recommendation of a now-imprisoned former broker of the firm. 
The award is comprised of $1.58 million in compensatory damages, $1 million in punitive damages, and approximately $46,000.
Sandra Alford, the complainant, was a customer of broker William Glaser. Glaser was employed by National Planning for nine years. He was barred by FINRA in 2017 for failing to participate in FINRA's investigation into his termination by National Planning.
Glaser is serving a three-year sentence for wire fraud. He allegedly sold $1 million of high-yield promissory notes that clients bought through self-directed IRAs he helped establish. Glaser also allegedly misled clients by falsely asserting that he had invested in the unsecured notes, which were issued by a now-liquidated construction firm and never made any payments on the instruments. 
The 2017 arbitration claim accused National Planning of negligent supervision, breach of contract, common law fraud, and negligent misrepresentation. The claim sought between $1.6 million and $3.7 million in compensatory damages based on alternative calculations. The arbitration panel ordered National Planning to pay all of the costs requested by Alford but denied her request for attorneys' fees.
"This is not a small boiler room firm, this is a firm that should have known better," said Bruce Oakes, one of Alford's lawyers. "This is a firm that also almost exclusively sold these types of packaged products, annuities, and non-traded REITs."
An expert witness who testified at the arbitration, Craig McCann, stated, "Brokers and their firms typically collect commissions of 8-10% on non-traded REITs. Calculating in offering costs that sponsors keep, investors typically give up 13-14% of their purchase price."
Contact Us Today
The Sonn Law Group is currently investigating allegations that National Planning allowed brokers to make unsuitable recommendations. We represent investors in claims against negligent brokers and brokerage firms. If you or your loved one experienced investment losses, we are here to help. For a free consultation, please call us now at 866-827-3202 or complete our contact form.