07.31.2020 UPDATE: Par Funding, the company for which Merchant Growth & Income Funding, LLC acted as a sales agency, has been accused by the SEC of being a fraudulent scheme. If you invested in Par Funding through an intermediary like Merchant Growth & Income Funding, LLC click here for investment loss recovery information.
Gary Beasley, the owner of the company, was also ordered to stop offering promissory notes tied to the company.
The Sonn Law Group is investigating allegations that Merchant Growth & Income Funding LLC sold unregistered promissory notes. If you or a family member has suffered losses investing, we want to discuss your case. Please contact us today for a free review of your case.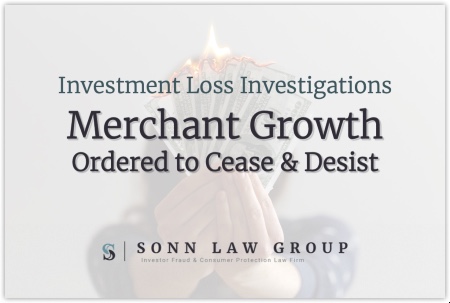 On February 25, 2020, the Texas Securities Commissioner, Travis J. Iles, ordered Austin insurance agent Gary Beasley to stop offering promissory notes tied to a Philadelphia company that has been sanctioned by two states and sued for predatory lending to small businesses. 
According to the Cease and Desist Order, Beasley, a former investment adviser, and a current insurance agent, sold at least $300,000 in unregistered promissory notes over the last three months through his company, Merchant Growth & Income Funding, LLC ("Merchant"). The order stated that neither Merchant nor Beasley is registered to sell securities in the state of Texas.
The order alleges that Merchant is a sales agent for Philadelphia-based company, Par Funding, who has a history of regulatory sanctions and lawsuits claiming illegal lending practices. The Pennsylvania Department of Banking Securities fined Par Funding $499,000 for selling unregistered promissory notes in November of 2018.
Additionally, in December 2018, the New Jersey Bureau of Securities issued a Cease and Desist Order against Par Funding. According to the order, Par Funding's unregistered agents were receiving commissions of 5% to 25%, depending on the interest rate promised to investors. Par Funding claimed that it used sales agents such as Merchant to raise over $270 million from more than 1,200 investors over the past year. 
Beasley has allegedly advertised the investments on local radio in Austin, urging listeners to contact Encore Financial Solutions ("Encore") to learn about investments that would purportedly protect them against a decline in the stock market. Beasley also used Encore's websites to solicit investors.
According to the Order, potential investors who contacted Beasley directly and Encore were offered investments that were issued by Merchant. Beasley stated that Merchant generated high rates of return by loaning money to businesses with cash-flow issues.
According to Beasley, he made all investment decisions for Merchant. However, the Order stated that Beasley has limited experience in personal lending. Despite his lack of experience, he allegedly told investors that they could earn annual rates of return from 8% – 14%, depending on the amount of money they invested. 
The Order alleges that Merchant is one of 44 entities recruiting investors and sending their money to A Better Financial Plan, a company headquartered in Pennsylvania and New Jersey. The company allegedly uses the money to invest in short-term lending securities issued by Par Par Funding. Par Funding then allegedly pays returns to the investors. Beasley then receives a commission from Par Funding for recruiting the investors. 
Par Funding ends up controlling all of the investors' funds. However, Beasley has not disclosed that information to investors. He also has not disclosed information about Par Funding's regulatory issues. Beasley is also misleading investors by telling them Par Funding is ultimately responsible for paying their returns, according to the order. Investors in Merchant sign contracts stating that the company alone is responsible for paying their returns. Beasley is not disclosing the current capitalization of Merchant or any financial information that would allow investors to gauge its financial strength, according to the order.
A federal lawsuit was filed against Par Funding by a Dallas golf course construction company, alleging that Par Funding charged illegally high rates of interest on short-term funding loans and failed to disclose the complete terms and penalties of the loan. 
Contact Us Today
The Sonn Law Group is currently investigating allegations that Merchant Growth & Income Funding LLC sold unregistered promissory notes. We represent investors in claims against negligent brokers and brokerage firms. If you or your loved one experienced investment losses, we are here to help. For a free consultation, please call us now at 866-827-3202 or complete our contact form.