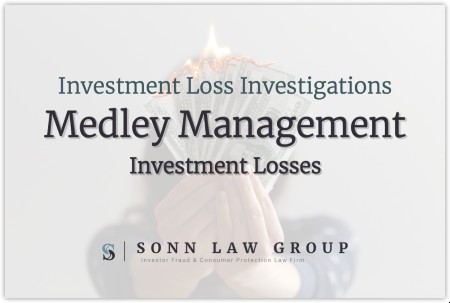 Medley Management is an alternative asset firm that offers yield solutions to retail and institutional investors. Medley has $1.9 billion in assets under management in one business development company (BDC), Sierra Income Corporation, and several private investment vehicles.
Sierra is a non-traded BDC that invests primarily in first lien senior secured debt, second lien secured debt, and subordinated debt of middle market companies. 
Medley had plans to merge with Sierra and Medley Capital Corporation (MCC) in 2019; however, Sierra's board of directors terminated the merger plans, announced in May 2021. Sierra blamed the termination on unpredictable economic conditions in the wake of the COVID-19 pandemic.
High risk investments like Medley Management pose serious risks to investors, especially those without experience in securities.. These investments are only suitable for investors with a long-term investment horizon who are willing to accept high levels of risk. Investors may be able to recover losses in these situations by filing an arbitration claim against the broker-dealer that recommended the investment. 
If you suffered losses investing in Medley Management please call us now at 866-827-3202 or complete our contact form.