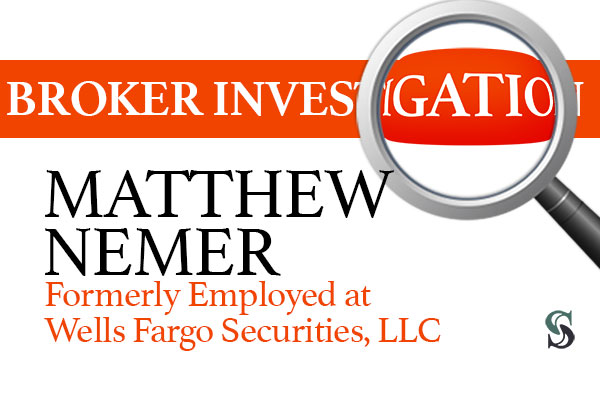 The securities fraud lawyers at the Sonn Law Group are currently investigating investment fraud claims involving registered financial broker Matthew Russell Nemer. On March 2nd, 2017, the FINRA Department of Enforcement officially brought a complaint against this individual.
According to publicly available records, which can be accessed using FINRA's free BrokerCheck tool (Broker CRD number: 2813102) Mr. Nemer was employed at Wells Fargo Securities, LLC from 2009 through 2016.
Complaint Filed Against Matthew R. Nemer
The relevant period in this case runs from September 2015 until February 2016. During this time, Matthew R. Nemer was employed as a research analyst at Wells Fargo Securities. He was staffed to work on research projects that covered approximately 25 different companies.
Most notably, he completed five different research reports into an undisclosed company that was referred to in the filings only as Company X. All five reports completed by Mr. Nemer were favorable to Company X. Indeed, he even referred to the company as a potential "Apple" or "Netflix" type organization that had the chance of experiencing dramatic future growth.
However, unbeknownst to his employer, Wells Fargo, Mr. Nemer was also actively engaged in talks to take a position in Company X during this period. In fact, prior to the completion of the final of the five research reports, Mr. Nemer actually accepted a position at Company X. His compensation package consisted of:
A base salary of $500,000;
A likely annual bonus of $200,000;
Generous employee benefits; and
Stock in the company consisting of 20,000 guaranteed shares with the option to purchase an additional 50,000.
Of course, this means that while he was completing this research report, Mr. Nemer stood to gain personal benefits if Company X's stock went up in value. As such, he should have disclosed his employment talks before publishing any research. According to the complaint, Mr. Nemer violated
FINRA Rule 2010, which requires that all FINRA-associated individuals conduct business with high standards of commercial honor and just and equitable principles of trade, and he violated FINRA Rule 2241 (c)(4)(I), which compels members to disclose any material conflicts of interest in relation to research reports.
Conflict of Interest
Did Mr. Nemer's serious conflicts of interest actually affect the conclusions of his research? It is simply impossible to be sure. However, there is good reason to suspect that it did. The bottom line is that all FINRA-associated individuals have a legal duty to disclose any and all material conflicts of interest when they publish research reports. Consumers have a right to unbiased and trustworthy information that is not tainted by conflicts of interest.
Contact Our Office Today
At the Sonn Law Group, we have extensive experience handling investment fraud claims. If you believe that you lost money because of Matthew R. Nemer, please do not hesitate to call us today at 1-877-959-6467. Initial legal consultations are always free of charge. From our primary office in South Florida, our firm represents investors nationwide and internationally.